Homegrown / Handmade / Passed-on Family or ( aka "Homegrown")
by Sherry A. Byrd
(Fairfield, Texas)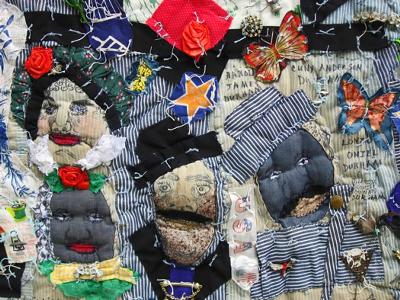 Detail from Homegrown
(Click the thumbnails below for a larger image)


This reversible story quilt is called HOMEGROWN.

A folk art creation, this quilt is composed of all recyclable materials and was created from 1998-2001. Homegrown and other wonderful family quilts are featured in a blog which I started in June 2010.

It chronicles the history of the Edward "Ned" Titus family.

Ned and his family members were brought to Freestone County, Texas in 1852, as slaves, by the Simeon and Nancy Lake family from South Carolina. Six generations of quilt makers developed from this family lineage. I am a fifth generation quilter in the legacy. I created this artwork to chronicle and record the history for future generations to enjoy!!!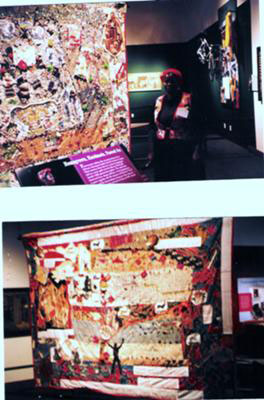 Sherry Ann and 'Homegrown' in
the exhibit 'It Ain't Bragging
If It's True' (2001)
This piece of folk art was featured in the inaugural exhibit of the Bob Bullock Texas State History Museum in Austin, Texas, in 2001.
The exhibit,
'IT AIN'T BRAGGIN IF IT'S TRUE'
, and all the items featured in it, were declared by one source as being the best that Texas had to offer to history in the past 200 years. We count ourselves honored to have had 'HOMEGROWN' chosen to be a part of the illustrious lineup of historical items chosen to help tell
the story of Texas
on this history making occasion!!!
President George Bush gave the inaugural speech for the museum's opening day and most of the Texas politicians and their family members attended the event. Among them were Governor Rick Perry and three former Texas Governors...Preston Smith; Dolph Briscoe; and Bill Clements. All these dignitaries had the unique opportunity to tour the new museum with the President and First Lady and also to view this unique piece of folk art.
This reversible story quilt will always have a very unique and special place in my heart.