Every Quilter Dreams
by Leonie West
(Mt. Evelyn, Vic. Australia)
Every Quilter Dreams
Hi, my name is Leonie West and I have been quilting for over thirty years, and have seen many changes in our tools and techniques that have enabled quilters to produce quilts with a vast diversity in style. I live in Mount Evelyn, Victoria, Australia. I recently won the New Inventors Show "Peoples Choice Grand Final" for a quilting tool that adjusts to give accurate repetition cutting.

The quilt featured here. "Every Quilter Dreams..." was a finalist in the 2006 international competition "Do You EQ?" run by Electric Quilt and Quilters Newsletter Magazine. I was in the May 2007 edition of Quilters Newsletter Magazine.

The quilt was exhibited in Golden, Colorado at the Primemedia Gallery and then it was shown at the International Quilt Festival in Houston with the other finalists in early November 2006. I had the pleasure of visiting the quilt show and I was so impressed in the quality and the number of quilts on show that I quickly got over the 29 hour trip from Australia just 5 hours earlier. Yes, I purchased a lot of fabric from the many sellers there.

The quilt was then on display, April 13-15, at the International Quilt Festival/Chicago, Donald E. Stephens Convention Center, Rosemont, Illinois.

The quilt measures 83" x 83" The quilt is sewn with partial seams, has 150 hand dyed fabrics, 15 different blacks, 14 Appliqué Blocks and a Center Medallion, took 4 months to complete, machine pieced, machine quilted, machine appliqued.



---
To Our Readers:
I asked Leonie for some close-up pictures of her stunning quilt and she graciously sent the following...
A close-up of Block #3...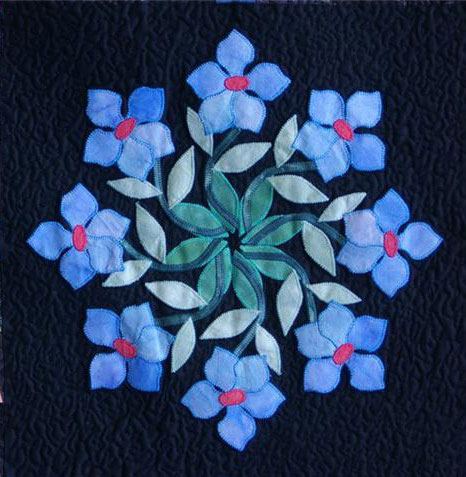 A close-up of the center block...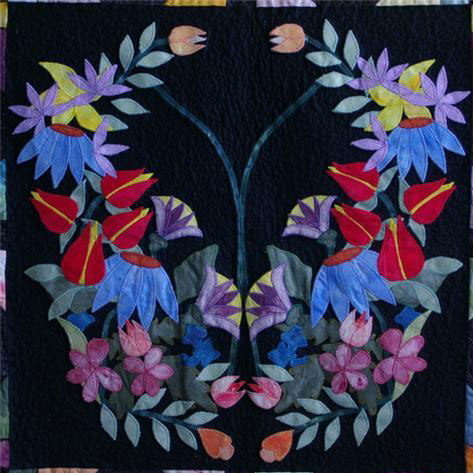 A close-up of the machine blanket stitching...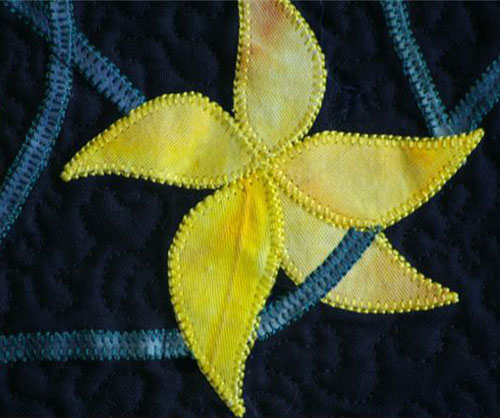 Leonie, your quilt is simply beautiful! I hope you will add more of your quilts to our Show and Tell! For those of you who are interested, Leonie has patterns for this quilt. When they are on her website, I will post the direct link here. So do bookmark the page if you are interested.
In the meantime, her website is
www.westalee.com
Julie Baird
Editor