Designing a Scottish themed quilt
I have some banners (I think they are called) from my Grandmother and her sister when they were traveling Europe.

I want to make a quilt with them and I am wanting some traditional Scottish quilt blocks to make the quilt with. My grandmother was born in Scotland and I think she would like what I have in mind for her souvenirs.

Can you help me?



Reply
I LOVE this kind of quilt project! It really gets the creative juices flowing!
I'm a little confused on what a 'banner' is. (I'm chalking that up to not enough coffee and being born both blonde and Norwegian...family joke, of course!) If it's the same weight and texture as quilting fabric...or close to it...then I don't see a problem with a traditional quilt pattern (meaning three layers--top, batting and backing).
However, if the banner is much thicker you might want to use larger seam allowances, maybe simpler piecing/quilt blocks then you originally thought (kind of like what we do with flannel quilts.)
My dad's family comes from Scotland a couple of generations back...so I'm personally interested in this project!
Ideas for the surrounding blocks...
Do you know the tartan (the family plaid design) of you and your grandmother's clan? You could actually make a pieced quilt pattern of that and then piece the banners into it. Your grandmother would easily recognize what it is. Unless it is a very intricate plaid, it would be pretty straight forward to draft the design. Piecing would be all straight lines...so there's no applique.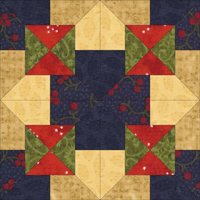 Scottish Cross quilt block
As to blocks, I'll take a look through some of my block books and see what I come up with that are Scottish related. Scottish flowers, places and sayings may provide more ideas and inspiration for a Scottish themed quilt.
Readers, your help and suggestions are most appreciated! What blocks would you suggest for such a quilt? How have you represented
YOUR
heritage in a quilt?
Just use the 'comment' link below to share. Thank you!
Piecefully,
Julie Baird
Editor