Design a Log Cabin quilt pattern that starts with a picture
by Neva Joy Baird
(Haughton, La )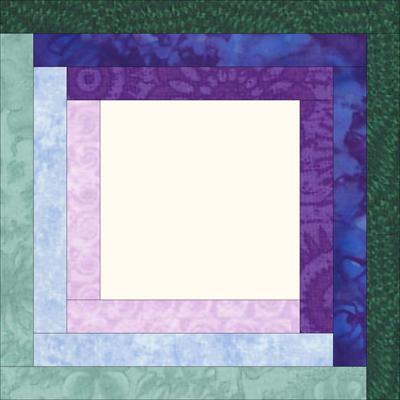 A Log Cabin quilt block design with 3 rounds of logs

Click on each thumbnail below for a larger image


Joy writes...
Hi Julie,
My name is Joy Baird and I am trying to make a memory quilt with pictures of my granddaughter from ages 1 month to 12 months.
My pictures are printed on 6.25 x 6.25 leaving 1/4 inch for sewing.
I don't know how long to cut the strips for this pattern.
The quilt will be a king size quilt and I would like to know how to get the sizes of the strips I need.
I like a 2 inch wide strip.
Thank you so much for your help.
Oh, I am trying to make a Log Cabin quilt.
Thanks again.
Julie replies...
Hi Joy!
In order to help you, I need some more information.
What are the measurements of the king size quilt that you need to make. Since you're making the quilt yourself, you get to choose what will best fit your bed.

Check out this page on the website if you need help figuring out what will work best for you...

"Quilt Sizes on Patterns are Not Consistent".

...there's a link to a "Worksheet for Calculating Quilt Sizes" to help you do this towards the bottom of the page.


Are the pictures on 6-1/4" squares now? What I'm trying to determine is the finished size of the squares, i.e. cut size minus 1/2" equals finished size. That means if the squares are already cut, the finished size is 6-1/4" - 1/2" = 5-3/4" square. If the blocks aren't cut already, and you can cut them 6-1/2" square, that'd be great. I just need to know either way to properly design this Log Cabin quilt.


For the strip width...do you like working with 2" finished strips or 2" cut strips? 2" cut strips finish at 1-1/2" wide.


I am assuming that the block you want to make looks like the image at the top of this page. If so, how many 'rounds' of strips would you like? The picture has a center square and 3 rounds of logs.


Do you want solid borders on your quilt or will the log cabin blocks go all the way to the edge. If you want solid borders, how wide do you want them?
With answers to those questions, I should be able to provide an estimate of how much fabric you'll need and the cutting instructions to get you started.
In the meantime, you might want to take a look at this page,
"Log Cabin Quilt Designs"
for some ideas on how to lay out the blocks. You'll find all sorts of ideas there!
Just let me know.
Piecefully,
Julie Baird
Editor
PS Another page that might be helpful to you is
How to make a Log Cabin quilt block in 3 sizes
.
UPDATE #1
Thanks for your responses in the Comments section below, Joy!
I'll show you where I started design-wise. This is before I heard back from you because, hey!, I just love to mess around with quilt designs! :D
I began with 1" wide finished strips with three rounds of logs are the baby pictures. (That was the block shown at the top of this page and then added another version of this Log Cabin block with 5 rounds of 1" finished logs around a 1-3/4" center square to make the blocks equal in size.
The blocks are 11-3/4" finished.
The resulting quilt is 8 blocks across by 8 blocks down. With a quarter inch finished binding it measures 95" square.
Here is my first attempt.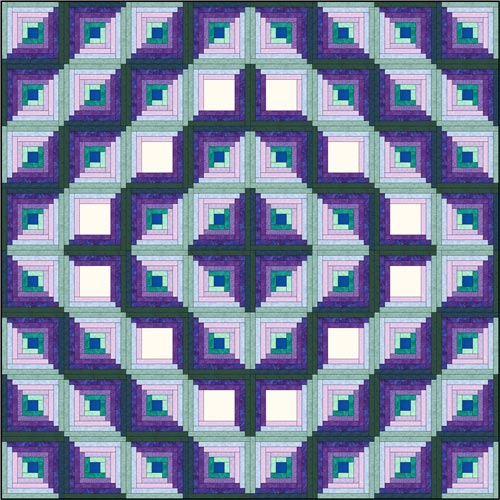 And my second with a slightly different placement for the baby pictures.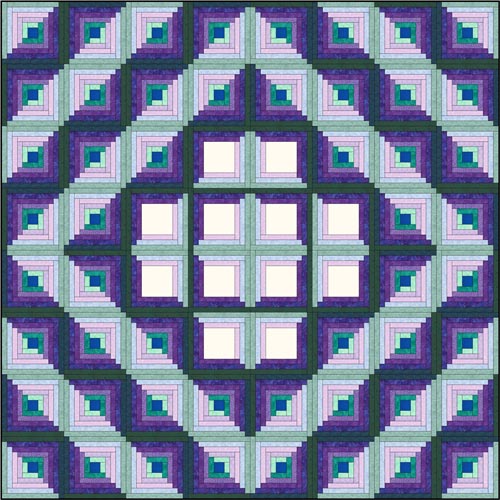 Now using the information you provided with 2" finished strips and three rounds
the block now finishes at 17-3/4".
You can see the difference in the blocks below. The baby pictures are less prominent in the larger blocks. The blocks are shown to scale.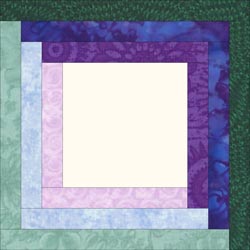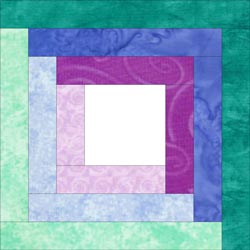 The resulting designs are now 6 by 6 blocks and 107" finished (including that 1/4" binding).
The first design.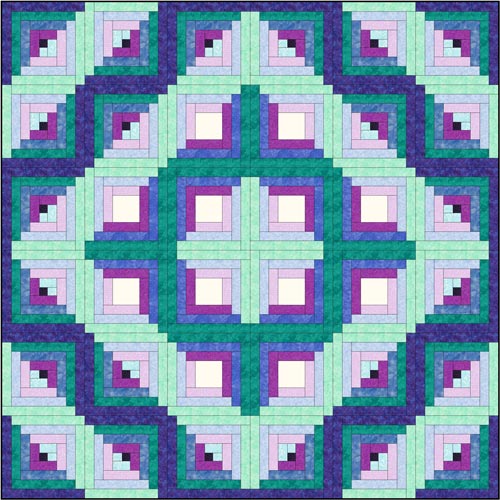 And the second. An asymmetrical design.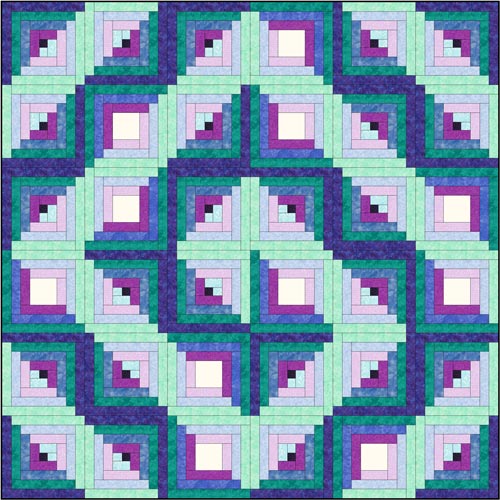 With the larger blocks there are fewer design options. If I was to pursue this design any further, I'd probably remove the picture(s) from either the top or top two row(s). I wouldn't want the baby pictures to be hidden either under the pillows or in a pillow tuck.
My rough estimate is that for a quilt this big you'll need between 13-14 yards of fabric for the quilt top. As we get closer to the final design I'll do the real calculations.
Do any of these Log Cabin quilt pattern designs appeal to you?
Let me know, again in the Comments section below. :D
Piecefully,
Julie