This post contains affiliate links for which I receive compensation
Daniel's Quilt
by Jen
(WA)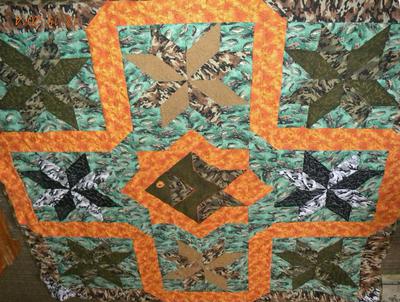 Click on each thumbnail below for a larger image


This is my third finished quilt. (I have a few others in progress)

My 16 year old son watched with great interest as I worked on my first quilt, "Traveling Stars." With each finished block, his comments were a bit shocking for a teen boy. He'd tell me they were beautiful and he was in awe. When that quilt was completed, he told me how much he'd like to have it.

I told him that I would make a quilt specifically for him that was not a practice quilt full of floral designs. It would be a Christmas gift.

I had some ideas for colors and themes. My son loves anything camo but he recently had to lay to rest a fish themed quilt (store bought) that he absolutely adored. He'd been pretty upset about that loss for awhile so I decided to put the two themes together.

I showed him several quilt designs featuring camo that I found via Google and he ended up really liking one that was woodland camo and safety orange paired together. As I am also a camo AND orange fan, I had no issue with the pairing.

My husband was a little uncertain.

And when the green fish fabric arrived and I showed my husband all the colors raw, he was even more skeptical. My son knows that his quilt will be camo and orange; he has NO idea that the fish are paired with it. I think he will be speechless when he opens this gift.

I worked on "Interlude" and "Daniel's Quilt" together. Getting bored of one and working on the other for awhile. It took me seven days to piece the top of this quilt and hopefully I'm not sounding like a braggart when I say this is my best work. The seams are straight, the points match, and all the measurements came out exact. (84x84) This quilt is far and away better than either "Traveling Stars" or "Interlude" as far as accuracy goes. A world apart they are!

It took me a month to quilt this. My free motion quilting has also taken a big leap forward and rather than blindly stippling, I was able to incorporate several design elements into this quilt. The fish has scales and fins. Each star has a branch design. And all the fish areas have either spiral waves or sea critters in them. I even stitched in a message to my son and the year it was made.

Now, you might be wondering what my husband thinks of the finished quilt colorway......he LOVES it. I think he'd secretly like to have it. I cannot wait to see my son's face and hear his words - if he can speak - when he opens this. He's been known to cry tears of joy over gifts in the past.

After making three quilts, having several more in progress, and working on various smaller quilting projects, I have realized that what I love about quilting the most is that I can make something totally unique to the person. Whether that person be me or a loved one. The finished product is totally "them".

It seems that now I need a nice quilt rack to display these on so the photos would be better.