Cone Flower Quilt
by Jackie Olmstead
(Minnesota)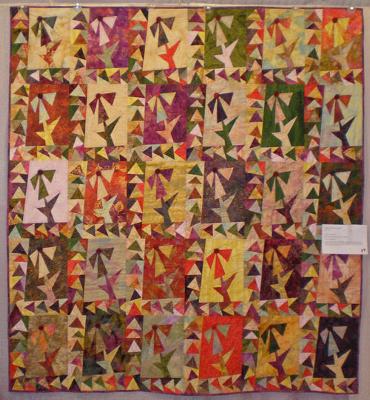 Cone Flower Quilt by Jackie Olmstead
I vended across from this quilt at the "Fall Splendor of Quilts" put on by the Chaska Area Quilt Club, October, 2010. It was definitely a crowd pleaser!

On the sign displayed with this quilt, Jackie Olmstead, the quilt's maker, wrote:

"I used an assortment of 30 batik fabrics to make this quilt. Each fabric is used as a flower, a leaf and a background. You stack, cut shuffle and sew it all back together again with no seams to match!

Lori Allison's quilting and the button add to the whimsy."

I loved looking at this quilt at the Chaska Area Quilt Club's show this past October.

A very warm, rich autumnal pull of yummy batik fabrics. (Come to think of it, Buggy Barn quilt patterns are a really nice reason to shop for more fabric!)

To see the machine quilting, click on the thumbnail on the right above. This is the perfect example of the quilting "adding-to" the pieced design. The curvy coneflowers stitched on top of the angular pieced flowers is the perfect addition to this wonderful quilt.


---
Quilt Pattern: Coneflower Crazies
Designed by: Buggy Barn
Machine Quilted by: Lori Allison
Submitted by Julie Baird
Photo displayed with the permission of the quiltmaker