This post contains affiliate links and ads for which I receive compensation.

Charity Gold Star Raffle Quilt
by Carol Mitchell
(Midlothian, VA)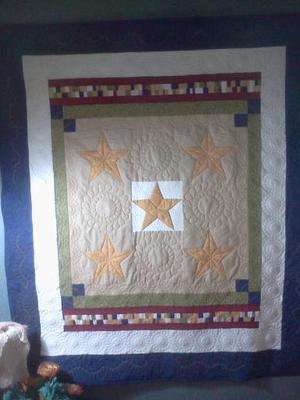 Click on each thumbnail below for a larger image


Good Morning Everyone!

I wanted to share this quilt with you as an encouragement and maybe spur on the idea of quilts for charity purposes and awareness.

This particular quilt was designed for a local Gold Star Mothers group. It is a raffle gift to help raise funds to purchase enough wreaths for every fallen soldier in the specific Veteran's cemetery they have taken responsibility for maintaining.

There are many other tasks the ladies take on to support one another and the families of these men and women who have fallen in the line of duty and service.

If you are interested in more information and would like to get involved with a group near your town, look up Gold Star Mothers and there are plenty of mothers and families who would appreciate whatever you may want to do.

The stars were paper pieced which made it very easy and quick to accomplish beautiful points. The border is something I have been incorporating in many quilts that can handle the design is what I call stained glass. I take all the bits and pieces left over from cutting and trimming and piece them together in a long strip. I specifically sew them together randomly. Then sew 2 strips together and attach to the quilt.

It is a wonderful way to incorporate all the patterns and colors in a very subtle way that ties it all into a cohesive piece.

I like it, and maybe you will too.

There is only one negative...it takes forever to handle all those scraps so I'm always trying to find ways to speed up the process and am open to suggestions.

The quilted feather wreaths were done as well as part of the design because of the significance of the fund raising purpose. So enjoy and I hope you all will find a cause to quilt for too.

The joy is immeasurable.

Carol Mitchell


From the Editor:

This is the website for the Gold Star Mothers organization that Carol wrote about above...

http://www.goldstarmoms.com

Wonderful work, Carol!

~Julie Baird


If this information was useful to you, please share it with your quilting friends. Thank you!