Burgoyne Surrounded
by Constance
(Athens, GA)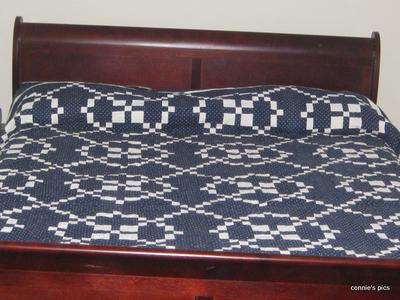 Click on each thumbnail below for a larger image


Hello. My name is Constance and I am addicted to quilting. I am an old fashioned quilter I guess, love the patterns with thousands of Pieces lol.

But. I also love paper piecing. Love the sharp points that you can get with it. And just now purchased material to do a Storm At Sea. I had made my son one when he left home for college, and I can say it was well loved and used lol.

That was 10 years ago.

One day he brought it home with him for me to see and wow lol it was in bad shape, beyond patching so I am going to make him another one.

I love for my quilts to be used. I mean I fall in love with each one that I decide to make.

Will post one of mine here.

Thank you for reading.


From the Editor:
Constance, you are a woman after my own heart. Welcome!
Love your quilts! I love to paper piece, too. For me it takes the place of having time to quilt. I can ALWAYS sew slow enough to stay on the line, even when I'm really tired or having a crummy sewing day. Saves a whole lot of ripping!
I'm assuming you are paper piecing the Storm at Sea...did you see that there are patterns to download on this site for the block
here...in the section called, "When you're ready for your own Storm at Sea Quilt".
If you choose to use them, just set 'Page Scaling' to 'None' on your printer, or sometimes it'll be 'Print at the actual size".
I'm looking forward to seeing your next quilt(s)!
~ Julie Baird