Bobbin thread is showing on machine applique

Why does my bobbin thread come through the top while appliqueing?

I adjust my settings, pull the bobbin thread up and begin... after a few stitches, the bobbin thread starts to show on the top of my applique.

How do I fix this??

Thank you in advance,

Lauri



Reply
Hi Lauri! Let's see if we can't get your problem fixed.
The monofilament thread that I recommend for
invisible machine applique
is very fine (.004) and is a single, extruded fiber (either nylon or polyester). So your problem comes from one of two possibilities:
Needle tension is too high/tight...
...and is pulling the bobbin thread to the top.
Monofilament has stretch and that stretch adds tension to the thread as it winds its way through your machine.
On my Viking D1, I always reduce the pre-set tension my machine provides by 2 whole numbers to accomodate my nylon monofilament.
Then I test and tweak it from there...usually lower...if needed.
Your setting will be specific to your own machine and the fabrics you are stitching on. If you need to reduce the tension by something other than 2...that will happen...go with it. Just remember to test on a 'like' sample as you go.
Needle is too big...
...and the bobbin thread is rising through the hole.
I always advise to use a needle size to match your thread and type to match the fabric.
When I do invisible machine applique, I will use a 60/8 Schmetz Microtex Sharp (remember to check your manual to see if you need to use proprietary needles).
But this is a really fine needle, finer that some may be comfortable stitching with--it's easier to break if you are pulling of your block as you stitch. So I do recommend a larger needle to begin with.
However, the clear thread is an extruded, single strand that doesn't 'swell' or 'puff up' after it's in the stitch like a 2 or 3 ply cotton thread will do.
With a larger needle, there's a chance that if you're using a fine bobbin thread that it will make it's way up through the hole because the needle thread isn't filling it.
Reduce your needle tension first to see if that works. Then try a smaller sized needle, and then finally if you're using a very fine bobbin thread, try using one that's a little larger. I've had very good results with Aurifil 50 wt cotton, Superior Threads' Bottom Line, a 60 wt polyester thread, and YLI's 100 wt silk.
One final trick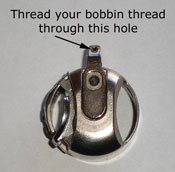 If you have a front loading bobbin case, there is a little arm with a hole in it like shown to the right.
Thead your bobbin thread through the hole in the arm to slightly increase the tension on the bobbin thread.
It is not possible to do this on a drop-in bobbin.
Lauri, I hope that one of these suggestions will solve your thread problem. This is a fun technique that helps get applique stitched onto quilts that you otherwise wouldn't take the time to do by hand. Let me know how it goes.
Piecefully,
Julie Baird
Editor