Bernina 765 SE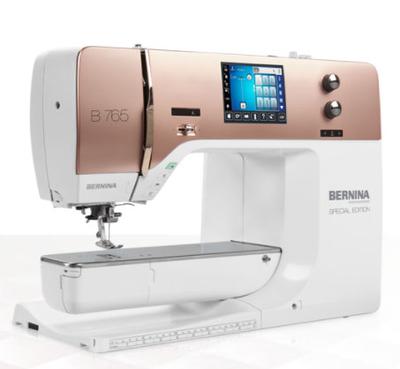 The Bernina 765 SE
I absolutely love the Bernina 765 SE Rose Gold with embroidery module.

This machine was a special edition and is no longer available from Bernina but some dealers may still have them available. It is almost identical to the Bernina 770.

I choose a Bernina for the stitch quality - hands down the best, completely uniform stitches exactly as you specified with a high level of customization available - and the presser feet - uniquely engineered and so easy to use and change. The Bernina 7 series has a 9mm maximum stitch width, the largest bobbin I've ever seen, 10" harp, excellent LED lighting, built in dual feed, a start button, speed control and knee lift for pedal free operation, needle up/down, automatic needle threader, automatic thread cutter with customizable securing options, feed dogs up/down, LED screen, wide variety of stitches, ability to save customized stitches & settings for a project and many more helpful features.

For quilting I use the stitches in the quilting folder and the straight stitch needle plate with presser feet 97D Quarter Inch foot for piecing, 10D edge stitch foot for stitch in the ditch quilting, either the 24 freehand embroidery foot (great for small fill patterns), 29C quilting foot or 44C Echo Quilt/Cutwork foot for freehand quilting, 72 ruler foot for ruler quilting and 71 lap seam 8mm foot for binding.

For applique I use the 20C or 20D Open embroidery foot or the 5 blind hem foot with the regular 9mm needle plate.

The accessories I use the most are the slide on table, fabric guide, multiple spool holder, right or left seam guide, circular embroidery attachment and an extra bobbin case.

I enjoy the embroidery module far more than I thought I would, there isn't an unadorned tea towel, napkin, or pillow case left in my house -- maybe next year an embroidered quilt.

I do not own the Bernina stitch regulator but I have used it in classes.

As I learn more difficult free motion quilting patterns I may add the stitch regulator.