Some of the links on this page are affiliate links. If you buy thru them, I receive a small commission—at no extra cost to you. This helps me provide all the free information on this site. To learn more, read my full Disclosure Policy.
Chimneys and Cornerstones Quilt Pattern

A Variation on a Log Cabin Quilt Block
Chimneys and Cornerstones quilt designs are a variation on the Log Cabin quilt design. One group of 'logs' has squares at each end to form a strong diagonal pattern through the block. There is a decided resemblance to the Irish Chain quilt pattern.
The Chimneys and Cornerstones Block

A good choice for a confident beginner this block has no bias edges to contend with. No special rulers or other quilting tools are needed.
Other common names: Unknown
Grid: 9x9
The piecing order is similar to the Courthouse Steps quilt block pattern, where strips are added on two opposite sides and then the block is pressed. This is repeated for the remaining two sides to complete a 'round'.
Generally this makes for faster piecing, but with the addition of squares to the ends of one group of strips or logs, it takes a bit longer to piece than a traditional Log Cabin or Courthouse Steps pattern.
The extra squares make this design unsuitable for paper piecing.
Let's take a look at the block.
| | |
| --- | --- |
| A line drawing... | ...and with fabric |
You can see that the center is really a nine patch quilt block surrounded by three additional 'rounds' of strips. Our block is drawn on a 9x9 grid, but there is no reason why you couldn't increase or decrease the numbers of 'rounds' of strips as you need.
The Layouts
Chimneys and Cornerstones Quilt: Straight Rows

In this straight set, the blocks are all laid out in the same orientation.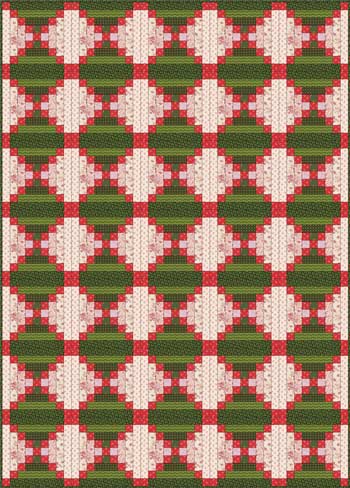 5 x 7 blocks
Same layout except each block has been rotated a quarter turn. Just a subtle difference from the first design.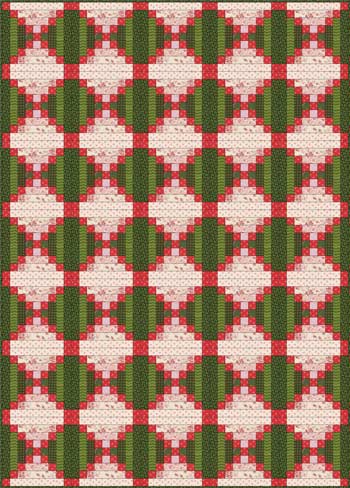 5x 7 blocks
In this straight set, every other Chimneys and Cornerstones block is rotated a quarter turn creating a pattern that resembles a quilt made of Hour Glass blocks.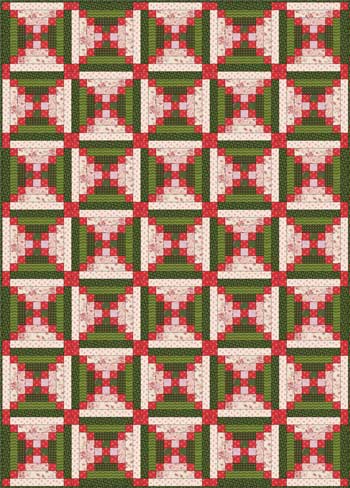 5 x 7 blocks
In next setting, all the blocks are positioned in the same orientation. Then all those in Rows 2, 4 and 6 are rotated a quarter turn. This seems to resemble a Native American Indian blanket pattern.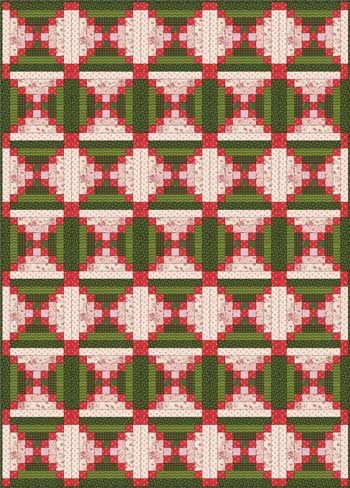 5 x 7 blocks
Chimneys and Cornerstones Quilt: Diagonal Rows

Our final example is set in an on-point or diagonal layout. Just like an on point Irish Chain quilt pattern, the resulting design looks like horizontal and vertical rows of squares forming 'chains' or a grid.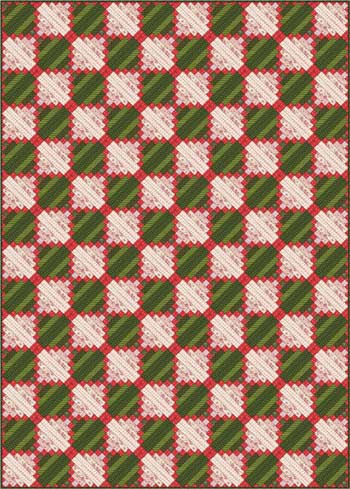 Diagonal Rows: 5 x 7 blocks
Now Make It Your Own!

Use these layouts as a springboard for your imagination!
Remember that for this block to be effective you'll need good contrast between the quadrant fabrics—in our example block we've used green fabrics for one set and cream/white fabrics for the other set.
The 'chain' or squares added to the ends of the logs need to contrast as well. We've used red for the squares which is the complement of green...as far away from each other as two colors can be on the color wheel. That's high color contrast!
Enjoy designing and stitching YOUR Chimneys and Cornerstones quilt!
---
For more on Log Cabin Quilt Designs and their variations see:
---
Return to the top of Chimneys and Cornerstones Quilt Pattern
Go to the Generations Quilt Patterns Home Page