Will my machine applique hold up if I don't use double sided fusible interfacing?
by Stephanie
(Zeeland, MI)
Stephanie writes...
Hi.
I'm working on my first quilt. I have added my daughter's name to the quilt using fusible interfacing to the back side of the letters and then zig zag stitching the letters to the quilt. So the letters are not fused on the quilt side, simply zig zag stitched.
It has turned out beautifully, but I'm wondering if it's going to hold up?
I went back and read how to applique and I guess I missed the step where it talked about using double sided fusing.
Any advice?
Should I take them off (crying - it took me forever to stitch them on so neatly)?
Thanks!!!
Julie replies...
Congratulations on your first quilt! It's so much fun and so satisfying when you're finished.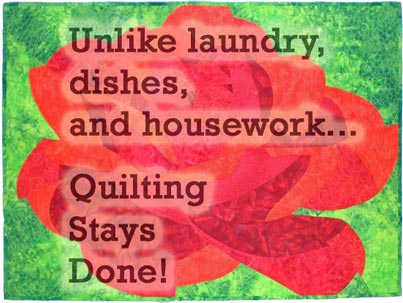 And unlike laundry, dishes and housework...
QUILTING.STAYS.DONE!
Rest easy, this is not something that you'll have to rip out.
Unlike fusible interfacing which is a fiber with glue applied to it on one side, double-sided fusible web is literally a very thin sheet of glue and nothing else.
The advantage of using it for machine applique is two-fold:
The glue helps to seal the cut edges of the applique and minimize any unraveling and errant threads. Your fusible interfacing applied to the back of the letters served this same function. So far, so good!


The other side of the fusible web helps the positioned applique to stay put while stitching, i.e. you iron the applique in place to activate the glue. And Voila! You don't need any pins to to keep it from moving while you stitch.

You didn't mention any issues while stitching the letters down, so no problem there either. Good job!

In fact, if you used fusible interfacing again, you could use Elmer's Washable Glue stick—the kind that goes on purple and dries clear— to 'stick' the appliques in place for stitching. You just need to remember to wash out the glue when the quilt is finished
The only problem you may encounter with your quilt is if you used a really open zig zag where there's not much thread coverage over the cut edges of the letters. Over time you may see some fraying of those edges. If that's the case, you could re-stitch over the top to add thread coverage.
When you wash the quilt
, use as little agitation as possible so as not to abrade the fabrics.
I think you should celebrate your accomplishment! I certainly do!
I'd love to see your quilt when it's finished,
please consider sharing it here
.
Readers, you are welcome and encouraged to share your knowledge and experience using the 'comment' link below.
Thank you!
Piecefully,
Julie Baird
Editor