Which walking foot should I buy?
by Zoe
(Vietnam)
I'm very new for quilting and sewing and I just bought a Brother BM2600.

I want to buy some feet and learn more about quilting but I'm not sure which one I should buy. I'm curious. What is the difference between Open Toe Walking Foot and a regular Walking Foot?

Which one should I buy for my machine or do I have to buy both for my machine?


Reply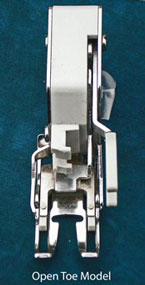 Purchase only the open toe walking foot.
The only difference between these two versions of the same quilting foot is a small piece of metal between the two 'toes' of the foot.
With the 'open toe' version there is no metal piece and you have a clear line of sight to where the needle pierces through your quilt sandwich. This is particularly helpful for stitching in the ditch when you are watching the needle just 'kiss' the higher side of the ditch.
The closed toe version of the foot has a strip or two of metal between your eyes and the needle. One of my older walking feet, a closed toe version, was a total pain to use, because the slit in the metal was off-center from the needle. It was confusing to quilt with. If I was following chalked lines, I couldn't line up the front of the foot with the line.
Once the open toe model came along, this problem disappeared (thankfully!).
Other than this improved line of sight, there are absolutely no other functional differences between the two versions, so there is no reason to purchase both.
To learn more about this quilting foot, see
Quilting Foot: A Beginning Quilter's Best Friend
.
Thank you for your question.
Readers, if you have more to add, please click on 'Click here to add your own comments' just below.
Thank you!
Piecefully,
Julie Baird
Editor