Which Machine Quilting Thread
I am a new long arm quilter. I have just started my first quilt and the big mistake I made was not using the best thread. Luckily I noticed on the first cross.

I am still learning to adjust the machine's tension. You suggestions were very helpful. I would like to know about how much thread it would take to quilt a twin size quilt? Am I better off spending extra for a 2000 yd spool over a 500 yd spool?


Reply
I am a self-confessed, thread-aholic, so there is bound to be some bias in my answer.
When size matters...
YES!!!
If you think you are going to like quilting, then by all means,
buy the larger cones
! You'll have the thread you need on hand and save some money in the process.
You have purchased a long arm machine. That's telling me you are serious about the machine quilting part of creating a quilt. You'll use the thread. More and more, as you get into the quilting.
I'd recommend starting with cones of nice quality 100% cotton thread. Both Aurifil and Superior's 'Masterpiece' work nicely for both piecing and machine quilting. Use these threads in the bobbin, too, to minimize tension adjustments.
I'm a fan of monofilament (YLI and SewArt are my favorite brands), though I must admit to preferring the nylon versions over the polyester ones. Don't hesitate to try different brands and types of thread as your tastes will differ from mine.
YLI's 100 wt silk thread is one of my favorites for machine quilting (on my domestic sewing machine), but for long arm quilters I've been concerned about the larger needle size needed for your machines.
At a recent quilt show, a gal stopped by the booth who is a longarm quilter and loved the Generations' machine quilting patterns that will soon be available on this website.
We got into a discussion about using the fine silk thread on the long arm. She, thankfully, educated me by saying that a long arm quilter
CAN
use a smaller needle to accommodate the silk thread. However, because you are using the smaller/finer needle, the machine's timing will need to be adjusted. I will be talking to her more to see if we can get together for an article for this website about how to confidently use the 100wt silk thread on your long arm machine. Articles are automatically posted to this website's RSS feed (the button is found under the NavBar at the left). I'll also add a link from this page, once such an article is published.
How much quilting thread will it take..
It all depends...on you.
Basic meandering, really a large stippling pattern, takes about the least amount of thread. Grid quilting is roughly equivalent unless the spaces are particularly close.
As you increase the density of your machine quilting patterns, you'll increase the amount of thread required to complete your quilt
AND
the time it takes to quilt it. Pantograph designs, repeated, interlocking lines of quilting are the next step up in the amount of thread and time it takes to quilt.
Heirloom quilting, characterized by small background fill patterns, and flowing, detailed feathered designs usually takes the most thread and time. Both for the quilting
and
the crucial step of designing the quilting.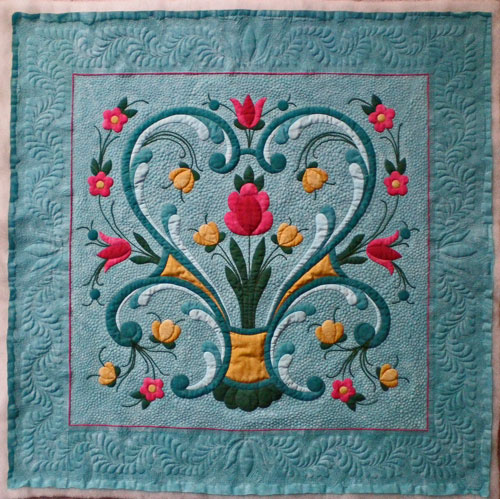 The quilt pictured above,
'Rogaland Rosemaling'
, used over 800 yards of 100wt silk in the needle, alone. More than 1,600 yards total when the Bottom Line thread used in the bobbin is added.
And it's only about 27 inches square! That's a lot of thread for such a small quilt. Wonder what knucklehead did that?...Oops! That was me!
As you progress in your long arm quilting, keep a journal to record all the quilts you quilt. Put that digital camera to good use and snap photos of the whole quilt and close-ups of your quilting. Record what thread, how much, type of pattern, stitching density, tension and timing adjustments, how much time it took to quilt...all this information will help you to estimate what it'll take to do your next quilt. And you'll get better with experience.
I hope this has helped a bit. Thread is just another part of the quilting process, and a fun one at that.
Enjoy the dazzling array available to you. Try and test those that appeal. Keep the ones that work. Scrap the ones that don't, because there's always some new quilting thread just waiting to be discovered!
Piecefully,
Julie Baird
Editor