Travel Irons for Quilting
by Karin Jensen
(Troutdale, OR)
Karin writes...
Hello!
I am taking my first quilting class and would like to know what mini iron should I get for use in my class?
Julie replies...
If this is a class at a quilt store, double-check with the store to confirm that you really do need to bring your own iron. I have never had to bring an iron to a quilt store class because they have a couple of irons and ironing boards set up in the classroom. If you don't need one, then do like I do and save your money for fabric!
If this is a guild workshop, again, many times the program chair will make sure there are irons available in the classroom.
If you really need an iron for class...
...this would be particularly for classes where there is lots of pressing involved, like a fusing class, certain applique techniques, then I'm of two schools of thought.
Check out this Rowenta
Travel Iron on Amazon.com
[About halfway down the Amazon page,
you'll find a comparison between this
travel iron and some of Rowenta's
other full sized irons.]
I purchased a Rowenta Travel Iron at Jo-Ann's (specifically for a Sharon Schamber Piecelique class--lots of pressing of applique shapes). This iron heats up nicely and can be used dry or with steam. I believe the final purchase price was $20-$25 on sale.
While the class was great and I
did
need my own iron, my regular sized iron at home would have done the job nicely.
Click here for more travel iron options...
And since quilt stores generally supply a couple of class irons, I've used this mini iron only a handful of times in the past three years. Again, it's a great little iron. But honestly, I haven't used it enough to justify its purchase.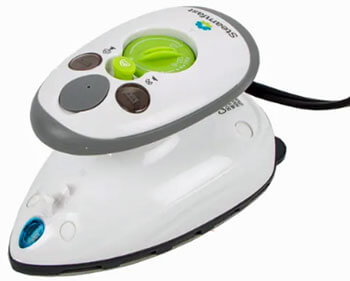 Learn about the Steamfast Travel Iron
My recommendation is to bring your regular iron if the added bulk is not a problem. Bring a cotton bath towel to wrap around it for transport after class. That way if you don't empty quite all the water from it, you won't accidentally splash some in your car.
If you find yourself frequently taking an iron to class, June Tailor makes a nice little cover for it...again you can find those at Joann's in the Notions aisles.
For pressing, I really prefer a heavier, full-size iron and let the weight of the iron do most of the work.
Now, this may catch me some flack, but Rowenta is my favorite. There are issues with the irons spitting or leaking. I see these complaints on quilting forums time and time again and have had some of these same issues myself. But every time I've purchased a different brand, I always come back to Rowenta for my replacement iron.
As an aside, I hand-dye quilt fabric for sale and vend at quilt shows, so I do
A LOT
of ironing during quilt show season--in batches of about a hundreds of yards at a time. My Rowenta's are workhorses, and stand up to the full workout I give them. They are on all day and hot all day.
So again, yes, you can purchase the smaller travel iron, I love my Rowenta, but as a beginning quilter, there are so many other tools to buy, this is a purchase you can probably put off for a while.
Piecefully,
Julie Baird
Editor