To stitch in the ditch or all over quilt design
by Cass Vachon
(Brookline, NH)
My quilt top is made up of twenty 12" blocks; each block is outlined with 1/2" red border. There is a 4" floral print in the center and yellow and periwinkle blue around the center. I have sashed with white on white floral and corner stones are the same floral center fabric. This fabric is also used on the boarder

I was told by two people that doing an overall quilt design using yellow thread would ruin the quilt and that I should consider doing stitch in the ditch. Others have said it would look wonderful quilted. The quilt design I looked at was called Springtime Flower—13".

I really don't know what to choose. I need help...please.

Best regards,

Cassandra


Reply
Hi Cassandra!
That's quite the dilemma you have. But don't worry, you're not alone. Quilters, including myself, are always getting to the end of piecing the top and then are stumped as to how to quilt it. You're in good company!
I've taken the liberty of drafting the quilt you've described below to give myself a visual (this was done in EQ7 so I grabbed a periwinkle and yellow floral just as an example).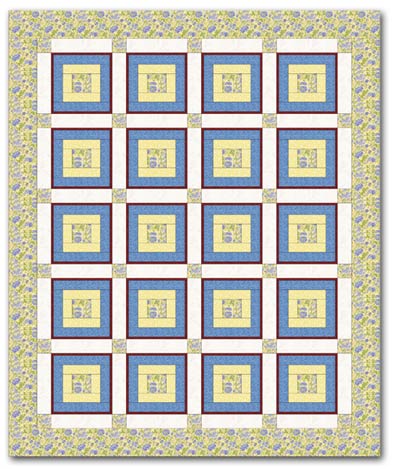 Two things to remember as you make your design decision.
It's your quilt! You CAN do whatever you want with it. So even my comments are based on MY preferences. You'll need to work through what's best in YOUR eyes.


Hari Walner, a quilting designer, teacher, etc., once said, "This won't be your last quilt." Huh? What's that got to do with the price of cotton? You will make another and another and another after this one. You will try many different kinds of quilting to finish your patchwork. Some will be more successful IN YOUR EYES than others. So don't agonize too much over the decision, there will be more to make.
Factors that go into choosing a quilting designThere are several considerations in deciding on the quilting design.

TimeHow long do you want to spend quilting? Since you mentioned 'Springtime Flowers - 13 inch', I'm making the assumption that you're on a frame set-up, if not a full-fledged longarm. A panto would be faster and easier to quilt because of the minimal number of starts and stops. All of them would be at the edge of the quilt, so there's no thread tails to bury.

Ditch quilting means ruler work—way more time consuming for long-armers.

If you're on a domestic machine, ditch quilting is much easier. No ruler to mess with, the feed dogs are down so your not worried about stitch length, nothing to mark and you get to start quilting right away.

Intended UseThis goes hand in hand with the time question. If the quilt is intended for high use, then I'd get it quilted the fastest way with a goodly amount of quilting to help it stand up to wear and washing.

The exception to this is if I have a need to practice a particular design for a future quilt and it either would compliment the current project OR it wouldn't show so I could 'practice for real'.

BattingDo you have a preference for batting? What is the 'maximum quilting distance' recommended by the manufacturer? Most machine quilting battings are good for at least 4 inches (your center square) of unquilted space. If you've used strips around the center as I guessed in my visual aide, those strips are 2" wide. That should also be fine. So that leaves the border. Just be sure that whatever gets quilted out there is sufficient and falls within the maximum quilting distance.

Quilting StyleDitch quilting all the seams absolutely does the job of holding the quilt together. I've used it all by itself on many quilts, simply to get them finished, into use, and to cure a bad case of "don't-want-to-wreck-it-itis"! (I suffer from that a lot! )

I have never quilted an all over design because all my stitching is done on a Viking Designer I, a domestic sewing machine. But once you've chosen the pattern, you're ready to quilt, just like with stitch in the ditch.

If you've not quite decided on the allover, then I suggest you trace a nice-sized section of it onto something translucent or transparent (i.e. clear vinyl or tracing paper) to audition it. Lay the tracing over your quilt and step back to audition it. It's a fast and cheap way to prevent having to rip out the stitches of a design that didn't do the trick.

With SitD the quilting is utilitarian and adds no additional design to the patchwork. Minimal texture is created and it mirrors the pattern.

With an allover quilting design, lots of texture is created. The stitches do have the potential to blur the piecing lines is the stitching is dense or the thread color is a high contrast to the fabrics used.

Is one better than the other?

No.

They are just DIFFERENT from each other. The choice is based on your personal preference and need.

Thread ColorMy biggest concern about yellow thread is whether or not the stitches will disappear in portions of your quilt, i.e. they show on the periwinkle and the white fabrics and then disappear in the yellow and floral.

The yellow will probably show most on the periwinkle because the colors are close to complements. (They're about as far away from each other on the color wheel as they can get.)

If it was MY QUILT, and again this is MY personal preference, I would use a monofilament thread in the needle and a 50wt 100% cotton in the bobbin to camouflage my stitching for a uniform appearance across the quilt.

At a minimum I would want either all the stitches to show or just the texture from all of them to show.

Unspool each of your thread choices and lay them across all the different fabrics. Do a bit of testing on a practice sandwich for an even better idea of how they will look. It's well worth the time. I do it every time for every project.

ConclusionWow!

This ended up a bit longer than I anticipated. I hope you're still with me!

Other topics of interest:


It's your quilt. It will be wonderful when it's finished because YOU made it!

Readers, as always, your thoughts and suggestions are most welcome. Please use the comments link below to share.

Thank you. Excellent question, Cassandra!

Piecefully,

Julie Baird
Generations Quilt Patterns