This post contains affiliate links for which I receive compensation
Three Color Study Quilt
by Alice Heckman
(Kearney, Nebraska)
Three Color Study
This was one of the quilts that grabbed me at the 2010 Spring Quilt Market in Minneapolis.

This stunning french braid quilt was created by Alice Heckman. In her description that accompanied the quilt, she says...

"As a hand dyer I am interested in the way colors mix and interact with one another. This quilt is the result of an experiment in color wheel dyeing. Three primary color dyes (a red, a blue, and a yellow) were used to create all of the colors and values in this quilt with the exception of the black (also a hand dyed fabric). By mixing the three primaries and altering the strength of the dyes, I achieved all of the colors in my Three Color Study quilt."

What really pulled me in was the smooth gradation of color and the quilting on the this spectacular quilt.

This is a close up of the pebble quilting Alice used as a background fill stitch. It really gives the quilt the look of stained glass.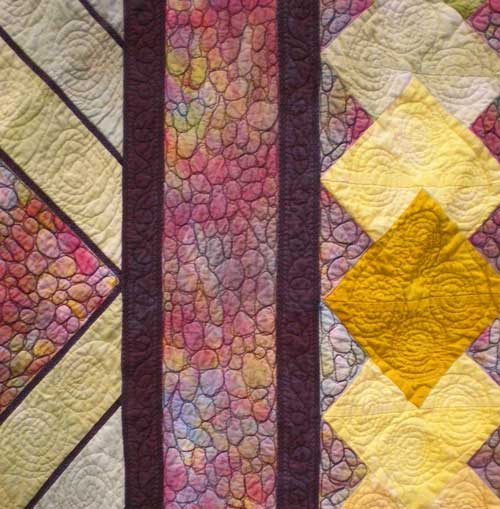 Bravo, Alice!
****NOTE****


As with all quilt shows, it is proper etiquette to ask for permission to post pictures of quilts other than your own. I did ask at the information desk and was given permission to use the photos I took for use on our website.

-Julie Baird, Editor