Thread Color for Piecing
Say you are piecing together red and black fabric, or a maroon purple color to light pink. What color thread should you use in both instances?


Reply
I determine my choice of piecing thread based on the value of the lightest fabric, how the quilt will be constructed, in particular how it will be pressed, and whether or not I'll be able to 'cheat' and color in errant threads in the seam that peek out.
Piecing with light fabrics
If I am quilting with a very light--white, cream, tan--neutral background, I will choose a light neutral thread that blends with the lightest light. My aim is to prevent the piecing thread from shadowing through in the seamlines. If the thread shadows through, it makes the seamlines look dark and kind of dirty.
I've been doing a lot of two color quilts lately--white and something else--and am using white thread for all the piecing.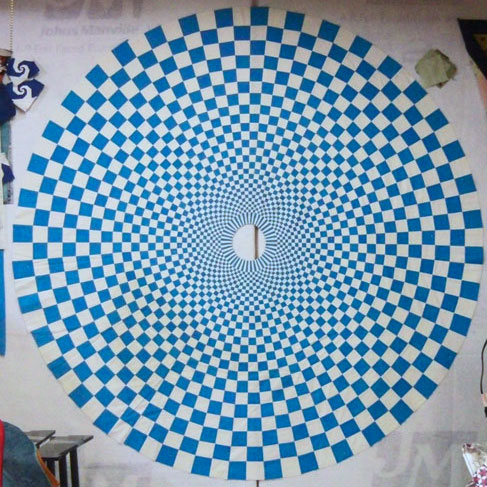 Currently on my design wall, pieced with white thread
From the quilt pattern, "Circle of Illusion"
Now, in all honesty, I do
A LOT
of paper piecing and once in awhile that white thread shows in a thicker seam where I've had to pull away the paper.
When this happens, the first thing I do is to tweak(tighten) the tension just a bit. If need be, because I've used white, I can go back and 'color' in the white thread with a Micron Pigma pen.
If you religiously press your seam allowances to the dark side--
all of them
--you could probably get by with using a darker thread, because it would never be sandwiched between the light fabric patch and its seam allowance. It wouldn't have the chance to show through to the top of the quilt.
But I press to avoid bulk wherever I can, and that means a lot of my seam allowances are pressed open. Many are pressed to the light and then the darker fabric is trimmed so that
IT
doesn't shadow through.
What color to use for scrappy quilts?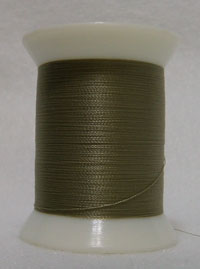 My favorite piecing thread,
for Civil War scrappy quilts...
Bottom Line #617
When I'm piecing scrappy quilts with lots of mediums and darks, my go to color is #617, a taupey-tan, in Superior Thread's Bottom Line thread collection. It blends in nicely with the Civil War reproductions that I'm so fond of.
Your examples
Specifically to answer your question, if it was red and black, I'd go for red.
Test for awhile and then be prepared to change if you're not happy with the results. You have a better chance 'coloring' a red thread black than a black thread red if you had to cover up an 'oops!'.
For a maroon/purple and a light pink, it'd be the light pink, especially if the maroon was very dark. I'd want to avoid the thread shadowing through, because once it happens (and if it bother you), you have to reverse sew out to correct it.
A word about tension
Testing your tension before/as you begin piecing is important. With a good tension setting your piecing thread will virtually never show in the seam allowance. Take the minute or two to test before you're fully ensconced in your piecing...remember...'a stitch in time saves nine'.
I hope this helps you make your thread choices for piecing.
I apologize for the long delay in answering. There appears to have been a glitch in my software platform, over 150 questions 'miraculously' (I write with much chagrin) appeared a couple of days ago, it will take me some time to catch up.
Readers, as always, your thoughts and experiences are most welcome. Do share them with other quilters by using the 'comments' link below.
Piecefully,
Julie Baird
Editor