The Bridge
by Jo Goranson
(Eden Prairie, MN)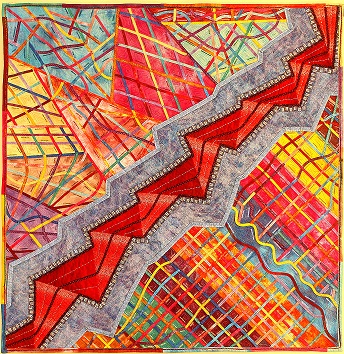 The Bridge by Jo Goranson

Click on each thumbnail below for a larger image


Julie and I have known each other for years and I know she won't mind if I brag just this once.

I am an Art Quilter and belong to MN Contemporary Quilters.
Every year we are given a word or phrase to use to make a quilt for our exhibit at the MN Quilters Show in June. We hang our own quilts and once the show is done, the whole exhibit travels around MN for a year to various places where they are hung up again and then taken down and sent on to the next place that shows off our quilts.

Two years ago the phrase was "On the Bias" and lots of us talked about the differences between our Twin Cities of Minneapolis and St Paul. In some places they are separated by the Mississippi River and in others you just cross the street and you are in another city. I decided to use this concept when I made the "The Bridge".

I used my own hand dyed fabric, except for one piece that needed polka dots, and put it in the show with a price tag on it. My fellow quilters made me take the price tag off (they actually ganged up on me because I was reluctant to do that) because they said the quilt was so good it had to be entered in a judged competition. I didn't think it was that good, but since many of them have won awards at judged competitions I decided to trust them and took that price tag off.

After I got the quilt back a year later I debated on where to send it. I decided I might as well go for the best and submitted it to the AQS show in Des Moines, IA, which took place this year (2013) in October. I had photos taken by a professional photographer (Wil Rolf) and was astounded when my quilt was chosen to be one of the 175 semi-finalists.

I did not win a prize, but I never expected to, so I wasn't disappointed. I found out that AQS had received entries from 37 states and five countries, so just getting chosen as a semi-finalist was a major accomplishment.

These are the pictures Wil took. One is the full quilt and the other shows off the quilting.

By the way the upper part is St. Paul and the lower part is Minneapolis. The bias strips are streets and if you look closely at the close-up you will see that there are street names next to the streets. You will also notice that both cities have the same colors, but the ones on the Mpls side are brighter. That is because I think Mpls has a more vibrant atmosphere and many more theaters and Art Galleries, which include The Guthrie Theater and The Walker Art Museum, to mention only two of the many, many cultural venues available.

St. Paul also has quite a few, but they are not as cutting edge as the ones across the river.

A few years ago I read an article that said Minnesota was second to New York for the number of theaters they had. We are a state where Art and Theaters are appreciated, and just think of how many less people live here compared to New York! The Bridge was so fun to make because I decided to make it an Art Deco style bridge, just to jazz it up.
Since Art quilters are lucky enough to be able to use any kind of fabric or embellishment on their quilts, I used chiffon over some of my hand dyed fabric for the water and used a tape that was covered with beads that I found (at an outlandish cost of $19.00 a yard, less a 40% coupon) to use as the lights lining the bridge. If you want more info about how I made it, let Julie know and I will answer any questions.

Now I am looking for more judged competitions to send my quilts to. I belong to SAQA (Studio Art Quilters Association) and SDA (Surface Design Association) and their websites list lots of competitions.

Check out the new website for SAQA (link above). It is now very user friendly and most of it can be accessed by non-members. They made it that way so that anyone who is looking for a quilter, a teacher, a photographer or any other professional we have can be located by anyone who needs one of our members to hire.

And don't forget to look at the gallery of quilts. Even if you don't like Art Quilts you will be astounded by some of them and wonder if they are really made with fabric (they all are, but we have some very innovative quilters who do amazing things to fabric). Some of them are even made in 3D or are huge, huge hangings.

My site is not up yet because I am waiting until we get to Mesa, AZ, our retirement place to get my pictures and bio done. Right now we are busy packing for the trip. By the way, my husband only retired last Friday, but I will never retire from being a quilter. I love it too much and I hope I can continue to quilt for many, many more years.

The word this year for the MN Contemporary Quilters exhibit is "cycles". You don't have to try this, but if you want to, think of what kind of quilt you would design using this word as your starting point.

Don't worry, you can be a Traditional Quilter and still do this exercise. Maybe you will find out you like designing your own quilts or you might find you hate it. Either way it is a wonderful way to get your quilting juices flowing, especially if you have been stuck in a rut. Remember that lots of quilters do a series of quilts that are all based on the same subject or idea, and also remember that one of the criteria for one of the judged competitions I am going to enter a quilt in has the quilt dimensions of 12" by 12", so not all quilts have to be huge. This does not mean these quilts are miniatures, that just reflects the small amount of space we have in the venue where the quilts are being shown and judged.

So, now you know what I have been doing.

This quilt is unlike any of my other Art Quilts because it is not embellished with lots of thread and other fun stuff. After all, when I was doing a lot of teaching at Quilt Shops my students started calling me "The Thread Lady" because I taught all kinds of thread techniques. The name has stuck and I use it on my business cards as well as other places. I have a blog, but it was started quite a few years ago and is probably the example people who write about how to do blogging use as the worst case example. That will change, so don't go looking for it now, since there are only two entries and they are boring as all get out. I now have a video camera that can be used for the internet and I intend to have Wil show me how to use it to show how I do certain thread techniques, such as couching, which I do with the broken zig-zag stitch, not the usual zig-zag one. You all have it on your machines, you just don't know what it is, so all of you ignore it. It is usually right next to the regular zig-zag stitch but is broken lines, not straight lines. Try using it sometime and you will know why I use that particular stitch all the time.

Now that my husband is retired and not working 10 hours a day, he will be the one doing the laundry and the food shopping (something he had to learn how to do when I had my right shoulder replaced two years ago).

He is a woodworker and makes wonderful small things on his scroll saw, but he has promised to take over many of the housekeeping chores I have been doing. We have been married for just over 40 years and before we were married we made lists of what chores each of us would do.

I may be totally right brained (I have a degree in English), while he is a total left brain person (he has a degree in accounting), but I do keep my stuff organized or I would never find anything. My label maker is my best friend. He already does the dishes while I do the cooking, although he has become an expert at the BBQ grill. However, I would never let him near the stove, since he thinks if you turn the heat up in the oven it will cook faster!

By him taking over so many of the chores I do that take so much time, it should free me up to spend more time in front of the sewing machine and learning how to blog so people will want to go to my place to see how to couch, use metallic thread easily, bobbin draw, free motion quilt and all the other thread techniques I am known for doing so well that my fellow quilters in my groups (both the ones I belong to in MN and my online pals) ask me questions about like what thread to use with what needle and what stitch on the sewing machine do you use when you are trying to attach lame' or chiffon to a piece of cotton.

My husband may have retired, but at age 65 I feel I am just starting a whole new career and I am so looking forward to it!