Stitching Applique Quilt Blocks
by Michelle Clemons
When you are assembling a block, do you applique each piece or unit (like your basket) at a time to the background fabric or do you glue baste all of the piece to the background fabric and then applique them after the complete design is glue basted to the background fabric?

I have done blanket stitch machine applique before and assembled the entire design on the background fabric before doing any stitching. I was just re-reading your instructions and wanted to know how you recommend for invisible machine applique. Also, will you be posting the final step on your invisible machine applique soon? I have a sample I have worked on through your tutorial and am looking forward to washing it to get the glue out. I am now working on a "real" quilt using your method. I love your method. I will be able to get more applique quilts done now. I have tried other methods, but yours is by far the one that produces the best results. And I don't have to remove the templates!! Thank you so much.


ANSWER:
For the
basket block
, because it was just two pieces
and
the block was so small, I chose to create the unit first and then glue the unit to the background square and stitch.
For a block like the Lily Rosenberry block found at:
https://www.generations-quilt-patterns.com/how-to-applique.html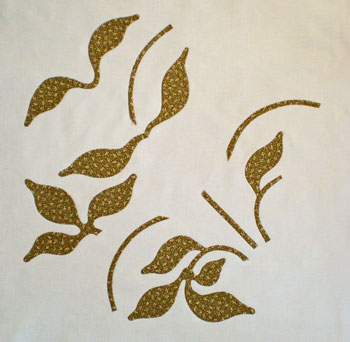 Lily Rosenberry applique quilt block - partially stitched
...because that background fabric is cut 18" square
and
there's lots of tiny circles
and
lots of stems, I chose to glue as many pieces of the "bottom layer" of the applique first, then stitch them. When a seam allowance is covered by another applique shape, I don't micro stitch at the end; the shape applied over the ends of the piece will hold the stitching. I then add the next layer, stitch and keep repeating.
Due to the use of the Elmer's glue, the block gets stiff. Personally, I don't like to bend the block during construction, if at all possible.
The "washing your applique block" step now up at:
https://www.generations-quilt-patterns.com/applique-quilt-blocks.html
I love this technique so much. I've done several hand appliqued quilt tops. I've got a different technique for that too (not traditional needle turn and it will be added to the website at some point) but I can't possibly finish all the quilts I want to do by hand.
Michelle, I'm so glad you wrote and are enjoying the information. Again thank you! Kudos from quilters like you really make it all worth while!
Piecefully,
Julie Baird
Editor