Starting and stopping a line of quilting
I am new to machine quilting and am working on my second quilt that I didn't send to the long arm quilter.

I use a walking foot for straight lines and I want to echo quilt a large star. How far apart should the lines be I was thinking 1/2 inch (or is that too close?)

When I start and stop do I still use micro stitches and do I know and tuck my ends?


Reply
Congratulations on quilting your own quilts! Love it!
The purpose of echo quilting is threefold:
Emphasize the shape you are stitching around


Flatten the batting around the shape, and...


More quickly quilt areas of your quilt. For example, stippling would smush the batting and add definition, but takes longer to do than echo quilting.
I personally wouldn't echo quilt more than the width of your walking foot away from the edge of the applique, unless the star was really, really big. I'd try to keep the scale of the echo quilting in line with the size of the shape.
Hawaiian quilts are usually quilted by echoing the applique shapes. The lines of quilting were traditionally spaced a thumb's width apart...because the quilter's thumb was a handy measuring tool!
Here is an example...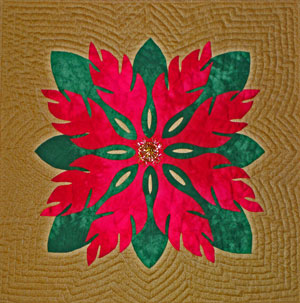 On the quilt below, the echo quilting I did around the stars is about 1/4 inch apart...enough to smush down the batting so that the trapuntoed star really stands out.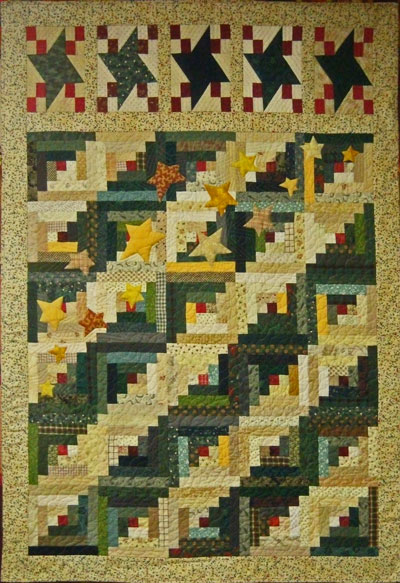 Since you are using a walking foot for the echo quilting, you'll be making some big turns as you go around the star.
To avoid tucks on the back, just be sure that you've got the quilt fully turned around the point of the star before you start stitching again.
After you've had the time to practice free motion quilting, you'll find that the echo quilting goes much easier. However, it does take some time to learn the technique, so if you're ready to get this quilt finished, by all means use your walking foot.
You can find more information about this quilting technique on the page
Echo Quilting: A Simple Technique with Big Impact
.
Starting and stopping a line fo quilting
Definitely! I would use the micro-stitching, unless...
...you are using a shiny or metallic thread for the machine quilting. Those threads will lose their 'dazzle' in the micro-stitching. That's because with the shorter stitches, there's less room in each stitch for the light to reflect off the thread. So for shiny's and metallics I would hand knot the threads and bury the tails in the quilt with a hand sewing needle.
Good luck and good speed on finishing your quilt. I hope you take great pride in the fact that you quilted it yourself!
We've love to see a
picture of it
when you are finished!
Piecefully,
Julie Baird
Editor