Stabilizer for Machine Applique
Question:
Can I use Wet N Stick Tearaway Hoopless Stabilizer on the back of an applique that will be sewed on a dress?
Reply:
Yes. Floriani Wet N Stick Tearaway Hoopless Stabilizer uses a water activated silicone type adhesive. Sometimes the pressure sensitive, sticky stabilizers can gum up your needle. This won't. You can also re-activate the "stickiness" several times. That makes it easier if you need to reposition it.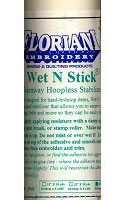 As always, my standard recommendation is to test on a small sample of like fabrics, just to be sure you:
Understand how to use the product, especially if it's the first time, and...


Fine tune your sewing machine tension settings. Sewing through additional layers of anything, be it fabric, batting OR stabilizers, can effect your sewing machine tension. You may find you need to fine tune a bit. It's easier to throw out a sample than it is to rip out stitches.
Many sewing machine dealers sell a sample pack of different stabilizers from the same manufacturer...a potpourri of stabilizer if you will.
You may want to get one to play with the different options available to you. Some may have a 'stiffer' hand than you'd like in the finished product. This gives you yet another chance to test, and for not too big an investment either. Stabilizers can be quite pricey!
Piecefully,
Julie Baird
Editor