Seams in quilt borders
by Mary
(Monrie, NY)
Where do you place the seam if you need to piece a border?

The quilt store doesn't have enough material to make the border in one piece.


Reply
I try to put the seam in either the lower left or right corner, most people don't look there first.
If there's ample fabric...
...I use a diagonal seam to connect the strips (binding strips are stitched together the same way). In my opinion, it's harder to spot these diagonal seams once the quilt is quilted.
If there's no fabric to spare...
...then I'll use straight seams, pressing them open to the bulk of the seam allowance. I don't want to create a noticeable ridge on the top of the quilt.
There are other ways to stretch your border fabric.
Cornerstones: Matching Fabric
Another option to disguise the seam allowances is to cut your border strips equal to the length of each side plus 1/2" for seam allowances (shown below). Then cut 'cornerstones' from the same border fabric. The seam allowances would line up with the edges of the center of the quilt.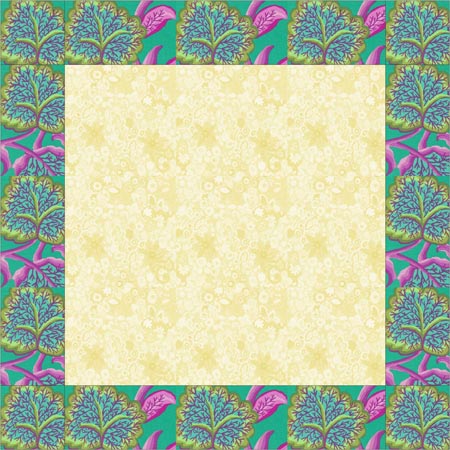 Stitch in the ditch to disguise those seams and quilt a 'corner design' into each of the corner squares. In the side borders, quilt a long design, say a cable or a length of feathers that begins and ends at the seam line. If the seams are noticeable, it will look planned. Our eyes seem to accept 'planned'.
Cornerstones: Contrasting Fabric
A traditional way to add cornerstones is to use a contrasting fabric...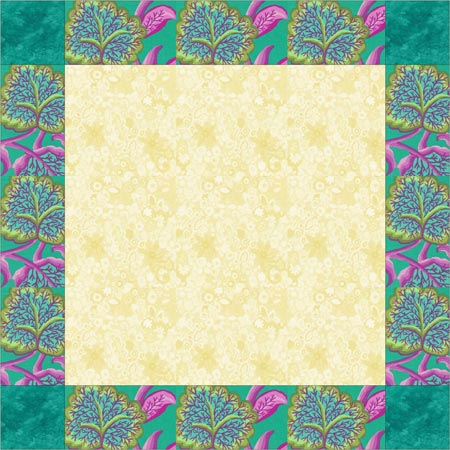 Again, use a different quilting design for the corner blocks.
Cornerstones: Pieced Blocks
You can also used pieced blocks for the corners. The same block and fabrics are used for both examples below.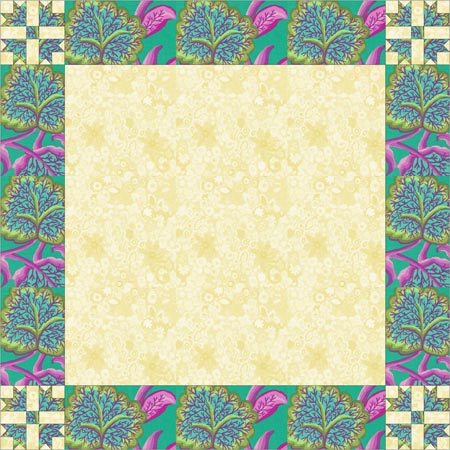 In this second version, the fabrics in the pieced corners are reversed.
I hope these ideas are helpful to you. Thank you for your question.
Readers, where do you put your seams when you need to hide the joins? Just use the 'comments' link to share your experiences with us. Thanks!
Piecefully,
Julie Baird
Editor