Rhapsody in Red
by Julie Baird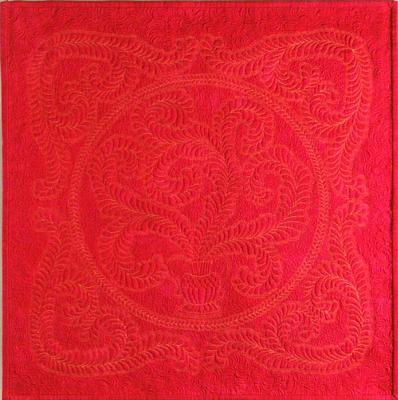 Rhapsody in Red by Trudy Sondrol Wasson

Click on each thumbnail below for a larger image


Rhapsody in Red is a wholecloth quilt my mother, Trudy Sondrol Wasson, created for the AQS show in Paducah several years back.

Mom was a big advocate of practicing your machine quilting and it showed in her work. This was her 'practice' piece for that show.

She designed the feather quilting by hand, no feather templates, no computer programs.


Trudy Sondrol Wasson
I'd watch her sit down at the dining room table with a pencil, plenty of erasers, a circle template, ruler and a a big sheet of paper.
And then she'd just draw.
She drew her design inspiration from the Norwegian Rosemaling (a decorative form of oil painting with stylized flowers and motifs) that she'd done for over thirty five years. An accomplished rosemaler, she'd won the prestigious Gold Medal given by Vesterheim, the Norwegian-American Museum, written two books on the subject and published many, many designs. People familiar with this type of painting, see its influence in her feathered quilting designs.
This 21" square practice piece was stitched on a Viking SE (home sewing machine) on hand dyed cotton sateen (by moi!) with Hobbs Heirloom Wool. YLI's 100 weight silk thread is in both the needle and bobbin. The background fill stitches are in red; the feathered design itself is in gold.
The final version of
Rhapsody in Red
is stitched on red silk dupioni. It is now part of the collection of The National Quilt Museum in Paducah, Kentucky.
But this little beauty is mine...ALL MINE!