Repairing seams in a finished quilt
by Melanie
(Columbus, GA)
Melanie writes...
I just finished my first full sized quilt.
It's so pretty!
But I put it in the washer and when I pulled it out, several of the patches separated!!
It was meant to be a birthday present.
Short of taking it all apart, is it possible for me to fix it?
Julie replies...
First,
CONGRATULATIONS
on completing your first big quilt. That's something to be celebrated!
Repairing the top
If it's the threads in the seams that have come undone
and the fabric has not ripped, you should be able to hand stitch the seams back together with the same stitch that you'd use for hand applique.
Do your best to stitch through just the patch fabrics and not clear through to the backing. But if you miss a bit, let it go.
Done is better than perfect.
Every time.
At the end of a seam, make a few stitches thisclosetogether and then make a quilter's knot and pull it through to the batting layer and snip off the thread tail close to, but not cutting, the quilt top.
If possible (and it fits in with your quilting design) you may want to add some additional quilting—not piecing—stitches along this same line to further strengthen the seam.
If the fabric in the patches has ripped along the seam line, i.e. the seam stitching is still intact
then there is nothing to form a new seam with.
In this case, the easiest way to repair is to applique a new patch over the old one. As suggested before, avoid stitching clear through to the backing if possible.
Preventing the problem in the future
Without seeing the actual quilt, I can only hypothesize, though there are two usual suspects when a quilt comes apart in the wash.
Not enough quilting
Use the batting distances printed on the package as a guide. Remember that those distances represent how far apart you can quilt and still expect the
batting
to hold together through use and washing.
Some battings recommend a maximum quilting distance of 8". If you follow that guidance, there's a whole lot of fabric loose in that 8" square. When the quilt is washed, it's free to rub/abraid on the fabrics next to it. It's also a lot of stress on the quilting AND piecing stitches when the quilt is wet and very heavy. When there's too much stress, your stitches will pop.
Add more quilting to reduce the stress on each individual stitch. Make sure the wet quilt is completely supported as you move it to dry.
Piecing stitch length
I piece with a stitch length of 2.0mm or stitches/inch. My point of my seam ripper fits nicely into the stitch so it's simple to unstitch poor match points. I find that my seams hold together nicely. (If you are paper piecing, a much smaller stitch is used—I go down to 1.5mm on my machine.)
While backstitching is not usually necessary in piecing, you may find it helpful to backstitch seams at the outside edge of your quilt. There's a lot of stress put on them:
By you as you layer and baste the quilt top
By your long-armer as the top is loaded and rolled during the quilting process.
Finally, make sure that your seams extend to both ends of the patch and that subsequent seams cross these stitches to secure them.
Tension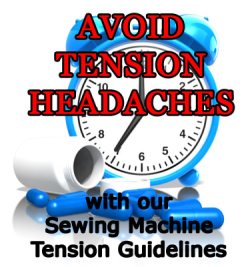 If your seams are popping within the patch and there's plenty of quilting and a good stitch length, double check that your tension is balanced.
When thread tension is too tight, it's much easier for the threads to pop when over-stressed.
Click here to learn more.
I hope this has helped give your some ideas. Readers please share your suggestions in the comments below. Thank you.
Again, take time to celebrate your accomplishment! It's a big one!
Piecefully,
Julie Baird
Editor