This post contains affiliate links for which I receive compensation
Recycled Denim Quilt
by Roberta
(Sarasota, FL)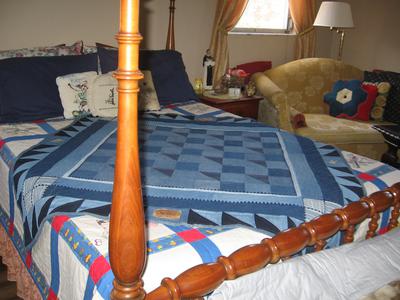 Click on each thumbnail below for a larger image.

I had been quilting for over 25 years and began piecing this quilt in 2015, before we suddenly decided to move to Florida!...

At that point it was this size, so I said, "We won't need any more quilts in Florida!" and stopped right where I was. The remainder of the pieces I'd cut wound up on the back (Which made it a LOT more work to hand quilt.

I just finished quilting it last night.

It is totally made from old jeans, denim skirts and dresses. You can see where I let the skirt hem down on some of the pieces!

I'd already tossed some of the labels when it occurred to me that it would be neat to re-apply them on the quilt.