Quilting on photo transfer fabric
Should you quilt on the photo or around it with a photo quilt?


Reply
This is where some pretesting will help you make the best decision for your quilt.
The picture below is of my block in a block exchange I did with my quilt bee. I wish I had a better photo, but I put the block in a 'safe place' and it appears it is quite
SAFE
from
ME
!!!
I'll add a more detailed shot when the block re-appears in my studio.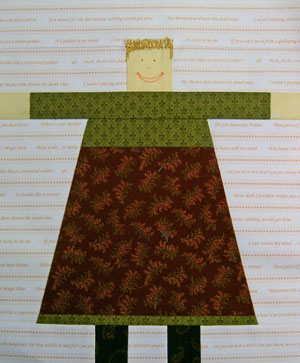 And this is the quilt one of my bee-mates, Cathy Lucas, created from the blocks all of us put together.
Back to the block...
...It doesn't look like a standard photo transfer quilt block.
I used prepackaged photo transfer fabric to create a conversation print for the background fabric with all the goofy sayings that we used with/on each other.
Using a word processing program and some lines and some '***' I was able to create a subtle fabric but with a lot of meaning for our group.
Unfortunately, when it came time to quilt my 'hair', I really wanted to do some thread painting...I'm not a big fan of fusible web...just a personal preference. Anyway...
...I had used a June Tailor packaged/precut photo transfer fabric and it didn't stand up to the stitching. The fabric itself felt more like a 'plasticized' fabric. I wish there was a better way to explain it but that's pretty close. My needle was leaving unsightly holes in the fabric.
That just wouldn't do!
I had to change plans and ended up switching to one of the EQ photo transfer fabrics, one that is for inkjet printers, 200 thread count, 100% cotton fabric. I was much happier with the finished result and could do the thread painting on it. It felt like regular cotton fabric.
But I am frugal at heart and didn't want to waste the expensive background fabric that I'd created. Several of my blocks ended up with hair that was fused on...made me look like I was wearing a helmut instead of spiky hair. :o(
Test on a sample first
With that experience under my belt, I recommend that you print a single photo tranfer, create a quilt sandwich with it, and see how it looks. It's much more cost effective to test to than print everything and find out that what you envisioned isn't possible with the fabric you chose.
Quilting can add a lot of dimension to an image making it visually much more interesting...
...but not when the needle leaves holes in the fabric, or the transfer fabric is very stiff and puffs out creating almost a pillow in the quilt block. Only a small sample can tell you if you'll be happy with the result.
Readers, which photo transfer paper do you prefer? Do you quilt in the photo to add interest? How does the fabric hold up? Please feel free to share your experiences with our quilters using the 'comments' link. Thank you!
Thank you for your question. I apologize for my terrible late response. Over 100 questions popped up in my dashboard (yours was one) and I've been playing catch up every since. I am so sorry for the delay.
Piecefully,
Julie Baird
Editor