Quilting around embroidered quilt blocks
by Kathleen
(New York)
Does every quilt block need to be quilted?

I embroidered several blocks and didn't want to stitch around them.

Thank you.


Reply
The right choice for you and your quilt depends on a couple of things.
How will the quilt be used? Will it hang on a wall, drape gracefully over the back of a chair, or be used and cuddled in?


How do you plan to clean it?


How large are the embroidered blocks?


What type of batting will/did you use?
If the quilt is intended for decoration only, you can get by with less quilting because there won't be the stress on the individual stitches that cuddling up in it creates.
Decorative patchwork is rarely meant to be washed. Washing puts stress on the patchwork because it is agitated to clean it. The fabric in the blocks and the stitching rubs together during the process.
Furthermore, if a wet quilt isn't properly supported as it is moved the stitching is stressed yet again. A wet quilt is a heavy quilt, even if it's a small one.
The size of the embroidered quilt blocks figures into the decision, too.
Batting manufacturers regularly print recommended maximum quilting distances on their packaging.
A stable needle-punched cotton batting like Quilters Dream or Warm and Natural carry recommendations of stitching up to 8 inches and 10 inches apart, respectively.
Either would be a good choice for your project because, as needle-punched battings, they are quite stable. If your quilt is a wall hanging, I would not expect to see much sagging over time with the recommended amount of quilting.
On the other hand, if your blocks are larger than eight to ten inches, you'd need to put at least
some
quilting into the block to prevent sagging over time.
You can learn more about recommended quilting distances on our page
Quilt Batting and Machine Quilting Distances
.
To get a refresher on the different properties of batting and choosing the best one for your quilt, visit our page
Quilt Batting 101
.
For your quilt, if the quilt
will not be washed
because it will
hang on a wall
, and if the individual
blocks are smaller than the manufacturer's maximum recommended quilting distance
, then I see no reason to add additional stitching in the blocks if you don't want to. But...
If you choose to add quilting...
...to the blocks to stabilize them, the picture below shows how effectively simple grid quilting is behind hand embroidered blocks.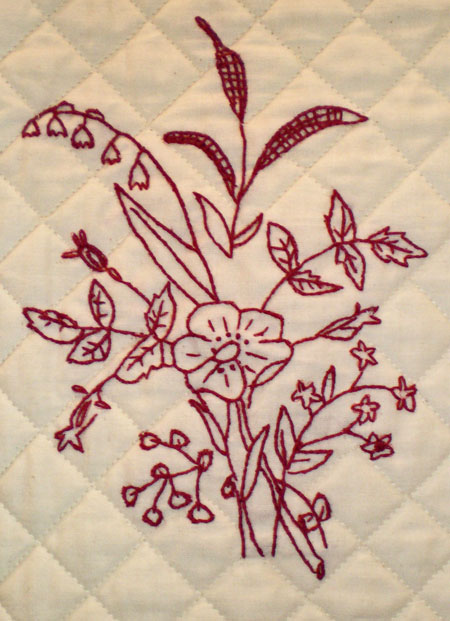 To learn more about this quilt (hand embroidered by Jean Casey and pieced and quilted by Debbie Spencer) and how it was quilted, visit our page
Quilting Over Embroidery
.
Sometimes the fabric used for hand embroider is lighter than that which we would choose for piecing. If you find that's the case, our page
Stabilizers for machine embroidered quilts
may be of interest to you.
Readers, what are your suggestions? Do you think embroidered blocks need quilting in them? Share your opinions using the 'comments' link a bit further down on this page.
Kathleen, I hope this has helped a bit in your decision of how to finish your quilt.
Piecefully,
Julie Baird
Editor