Quilt Sandwich Sticks to Machine
by Jeanette
(Tacoma, WA)
What can I use to make the quilt move more evenly when free-motion quilting?


Reply
The best way to ensure even movement of the quilt when free-motion quilting is to have control of the quilt sandwich.
That sounds simple enough, but the first thing to understand is that you are only moving that part of the quilt that is between your hands. Nothing else should move. Nothing.
Once this idea is firmly planted in your mind, there are several ways to make the quilt physically easier to move.
Reduce the friction you create...
When you are moving your quilt under the needle, take a quick look at your hands. Are you up on your finger tips? Or are your palms flat against the quilt sandwich.
If your palms are flat against the quilt, you are creating more friction than if you are up on your fingers. Prove it to yourself. Rub your palms along your thighs...feel the heat? That's friction. Now try rubbing just your fingertips along your thighs. Less heat, right?! That's less friction.
Use only as much pressure as it takes to move the quilt. And remember, it's only the portion of the quilt sandwich between your hands that needs to move. The rest of your quilt should be supported and stationary.
Getting a better drip on your quilt helps you to reduce the friction created moving it.
Try Neutrogena Hand Lotion. A little dab goes a long way. The lotion rubs into your hands and leaves just a slight tackiness. I rely on this a lot for my quilting. For my increased grip, as well as moisture for my hands during the machine quilting process.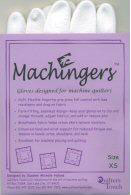 Machingers quilting gloves are also quite helpful in getting a good hold of your quilt sandwich. The tips of the fingers are coated with a plastic-like substance that helps grab the quilt, but is not so 'sticky' that your thread tails get caught on your fingers. These are found in your local quilt store for about $8-9.

Sharon Schamber markets the Quilt Halo, a PVC-coated metal weighted ring that lays on top of your quilt as you move it under the needle. Many like it. It retails for about $25.
A Clean Sewing Machine Bed is a Slick!
If you use your machine a lot, there is likely to be a build-up of dirt and oils on the bed of the machine. All it takes to remove is some warm soapy water (don't go too heavy on the soap, it only takes a drop or two). Wash the bed, rinse and dry with a soft cloth. The same goes for your sewing machine table. Of course, if it's wood, be careful with the water so you don't raise the grain of the wood.
Make the Bed Slicker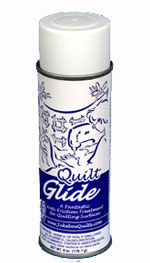 Try a product called 'Quilt Glide'. Sold in quilt stores, it's essentially a silicon spray to make your quilting surfaces slicker. Spray it on and buff it off. It needs to be re-applied when you notice less slide. It's about $9/can and if you can't find it at your local quilt store, try www.jukeboxquilts.com in their online store.
Another, more pricey option, is the Supreme Slider. This is a Teflon sheet that adheres to the bed of your sewing machine much like vinyl clings stick to a window. This retails for $25-30 at your local quilt store.
All of these suggestions can make moving the quilt easier, some are more pricey than others. My preference is to clean my machine bed before I start quilting and use Neutrogena. If I'm doing a lot of dense, tiny quilting like the Rosemaling Quilt with is tiny pebble stitching, then I use a combination of the Supreme Slider and Machingers quilting gloves.
Jeanette, thank you for your question. I hope I've given you some ideas to make your free motion quilting easier.
Readers, what works for you? Let us know by clicking on 'Click here to add your own comments' just below.
Thank you!
Piecefully,
Julie Baird
Editor