Quilt Embellishment! When do I apply it?
by Shirley
(Canada)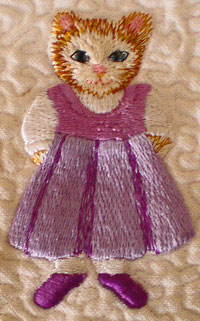 Click on each thumbnail below for a larger image


At which stage do we apply machine embroidery to a quilt?

Before we sandwich it together, or after?


Reply
I can answer this as an
occasional machine embroiderer
...
Lack of regular machine embroidery stitch-outs...
Because I embroider so infrequently, I prefer to add my machine embroidery to a patch that will eventually be sewn into a block.
That way, if I screw up the embroidery—hoop it incorrectly or use an improper stabilizer for the number of stitches the design has—I've only 'wrecked' the individual square. To fix the problem means only cutting another patch and doing another stitch out.
Avoidance of Frog Stitching...
Rip-It, Rip-It, Rip-It! Yuck!
The designs I'm drawn to are dense with stitches, like the little kitty shown above. If I stitched it directly onto my quilt and then decided it needed to go, removing the stitches would be a nightmare. An awful lot of work AND possibly damage to the quilt fabric with all that ripping necessitating a repair or concealment of the damage. Not fun!
Neatness...
I like the backs of my quilts to be neat, regardless of whether they will be used on a couch, a bed or always hung on a wall where no one will even see the back. I prefer a lighter-weight bobbin thread which usually is white...that doesn't look good on the back. And most of the designs I've used have the tension set so that the needle thread shows on the back...and that isn't particularly attractive either.
Now you could add a 'false back'. Literally, an extra one over the back of your quilt to conceal the stitches. But it's easier (in my humble opinion) to just stitch the design on a square and piece it into your quilt.
And finally...
Dimension
If you stitch your design directly onto the quilt sandwich, those stitches are totally compressing the batting. The design is visually further back on your quilt. Since that design was an important element and probably something that you wanted to showcase, it seems counterproductive to stitch it into the batting.
With the kitties shown above, because the design was stitched onto a square which was in turn pieced into the quilt, it rises above the surface of the quilt saying, "HEY! LOOK AT ME!", which is exactly what I wanted it to do.
The stippling around the kitty pushes the background further back, giving the kitties even more emphasis. (Though you can't see it, there is ditch quilting around each cat to stabilize the block.)
OK Readers! It's your turn.
When do YOU add your embroideries and why? Join the conversation using the link below. Thank you!
Shirley, I hope this has helped to assist you in reasoning through your own situation.
Piecefully,
Julie Baird
Editor