Quilt Batting: How much extra do I need?
by Sharon
(Michigan)
How do you determine how much batting you need for a square quilt, i.e. 88x88 inches?


Reply
I like to have an extra 3-4 inches around each outside edges of my quilt top when I quilt on my Viking D1 sewing machine.
That means for an 88 inch square quilt, I'd add 6 to 8 inches and cut my quilt batting somewhere between 94 to 96 inches square.
This extra batting accommodates any drawing up of the quilt as it is stitched and allows for squaring up before binding.
If you were quilting a small wall hanging or table runner, you could get by adding as little as an inch or two to each side (or 2 to 4 inches to the length and the width measurements).
Handling this extra batting...
Particularly if you use a cotton or bamboo batting, the bat can 'shed' fibers onto your quilt top.
Once you've finished your stabilizing quilting, you can freely move around your quilt to quilt different areas.
In this quilt just below, I ditch quilted between all the blocks and sashing. I then free motion ditch quilted the seams of the center star (not shown) and all the little stars. Then I quilted the outside flying geese borders. The alternate plain squares will all be free motion quilted with wreaths, so there's lots more stitching to be done. I'll want to protect the edges and here's how.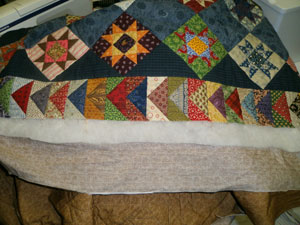 The extra quilt batting is trimmed
In the top photo, a lot of the extra batting was cut off once the borders were quilted. Most, but not all, because I'll block and square up this quilt once the quilting is finished.
The extra quilt batting is wrapped
To keep the edges neat I wrap the excess
backing
fabric around to the front and safety pin it in place to protect the edges. If I had used a cotton batting, this would also keep the fibers from shedding the sandwich is moved back and forth under the needle.
Using the services of a long arm quilter...
If you choose to send your quilt out to a long arm quilter, they may want a larger square, requiring as much as 4-6 inches of extra batting on each side. This is because the batting is held on the machine by rolling it onto a bar/roller. You would need to check with the quilter for their specific requirements.
There are a couple of other pages on my website about quilt batting and layering and basting in general. They are:
Thank you for your question. I hope this information has been helpful to you!
Piecefully,
Julie Baird
Editor