Prewashing fabric for a quilt backing
by Kathy
(Spencerport, NY)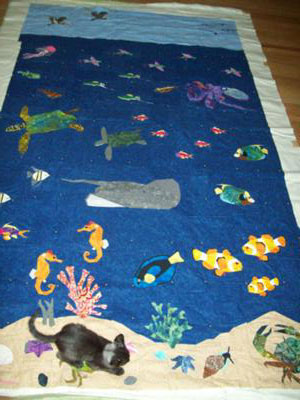 Quilt top minus the kitty

Click on each thumbnail below for a larger image


Kathy writes...
I made a long twin quilt top featuring paper pieced sea life animals.
I did NOT prewash any of the top material- I used a variety of cottons. Now I would like to put the quilt together and quilt it.
I chose Warm and Natural needled cotton for the batting and a wide piece of flannel for the backing. Should I wash the backing?
I spent a large amount of time on the top and would like it to last.
Julie replies...
First of all...LOVE IT!!!! Your quilt is REALLY fun!
Now to get to your question...yes, if it was my quilt I would prewash the flannel backing to get a lot of the shrinkage out of it.
Flannel, in my experience, tends to shrink more than the traditional quilter cottons. I'd want to try to equalize the fabric in the top with the fabric in the back. Prewashing the flannel backing would go a long way to do just that.
That said...
...if it was my quilt and I'd put all the time into paper piecing the top, I would put a regular quilting cotton (or one of the wider cottons that is sold for backing) on the back of the quilt.
The reason for this is that (again my experience) the regular cotton will wear better/longer than the flannel will. I noticed that you specifically called this a 'long twin' quilt top...I'm assuming that this quilt may be for a college student? (Dorms tend to have 'long' twin beds...) Regardless of who it's for, it's a special gift! The recipient is very lucky!
If it is, indeed, going to a college student, there's a good chance that this quilt will not only grace a bed, but a chair or couch for curling up in and studying, or as a stand in hug when someone is missing home.
That means extra wear and tear on the quilt.
I'd want it to withstand that extra loving. So based on that assumption, I'd use a regular cotton for the backing.
Include washing instructions
I would also do a little pretesting of the fabrics in the quilt. Take scraps of the fabrics you used and
test them for bleeding
. If you find a bleeder in the bunch, then send a box of dye magnets and instructions for washing the quilt in cold water (again my experience is that fabrics TEND to bleed less in cold, though not a guarantee, if they're going to bleed). Many have reported good results with dye magnets.
I hope that you don't mind that I added this extra bit, but it is what I would do if it was my quilt and I'd spent all the time piecing it.
Kathy, again, it's a wonderful quilt, thank you so much for sharing it with us!