This post contains affiliate links for which I receive compensation
Patriotic Sawtooth Stars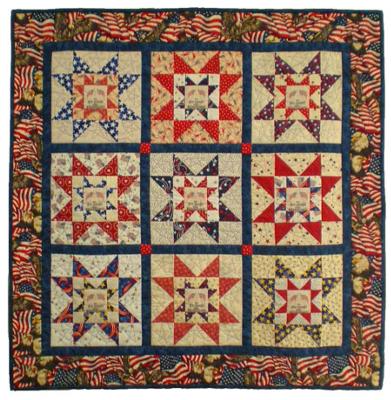 Patriotic Sawtooth Star Quilt
Mom designed this double sawtooth star quilt pattern while she was figuring out how to use the EQ5 (Electric Quilt) quilt design software. She fussy cut the fabric for the center of the smallest block.

Her father immigrated to America from Norway (passing through Ellis Island) at the ripe old age of 19. He spoke no English at the time. But with the help of Norwegian friends and the radio at night, he learned English. He became a traveling salesman for Janney, Semple, Hill & Co., a hardware supplier, ranking as one of their best salesmen. Later he owned his own variety and hardware store in Cedar Rapids, Iowa.

Both Mom and I have been to Norway and had the pleasure of staying for many days in the house where my grandpa was born in the mountains of Vang. When I asked him why he left (it is spectacularly beautiful where he was born) he told me he "...couldn't eat the mountains."

How does this quilt relate?

Why, my Norwegian Grandpa was born on the Fourth of July!