Outline quilting for machine applique
by Joyce V.
(Glen Ellyn, IL USA)
I have machine appliqued a baby quilt (Noah's ark). I want to outline quilt around each animal.

How far out from the applique stitch should I do the outline stitch - and what length stitch is best to use?


Reply
Hi, Joyce.
First, congratulations on finishing your quilt!
I'm assuming you'll be machine quilting this quilt because the applique was also done by machine.
My personal preference is to ditch quilt around my applique and then do some sort of background fill so that the applique comes forward visually.
In the photo below, I've used a very tight fill pattern (the pebbles) and the applique really pops up out of the background.
SewArt monofilament was used for the ditch quilting...all the shapes including the hand embroidered stems are ditch quilted. YLI 100 wt silk was used for the rest of the quilting. There is about 1000 yards of silk thread in the needle alone in this 27" square quilt.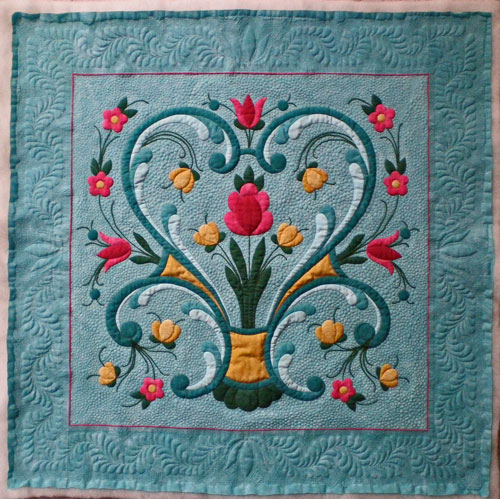 Let's be honest, when we create an applique quilt, it really is all about the applique.
Proper Stitch Length...
...is determined by three factors—the first two are the intricacy of any background fill work that you do and the type and weight of the quilting thread.
Thread Type and Weight
The 100wt silk thread was used for the quilting in the
Rosemaling Quilt
is an extremely fine thread. If I had used a standard machine quilting stitch length of about 12 stitch/inch, this silk thread would have looked more like basting instead of quilting.
Use a 50 wt cotton thread like Aurifil or Masterpiece and a stitch length of 12 and the quilting stitches would look just fine.
Thinner threads just plain look better with a shorter stitch length. Thicker threads require a longer stitch length.
Monofilament or invisible thread, another favorite of mine to quilt with, also looks better in my opinion with a shorter stitch length. It, too, is a finer thread. However, the shorter stitch length also reduces the shine from this extruded man-made fiber.
Stitch Pattern
In the closeup below, you can see just how tiny the stitches are. They had to be in order to have the tiny pebbles look round.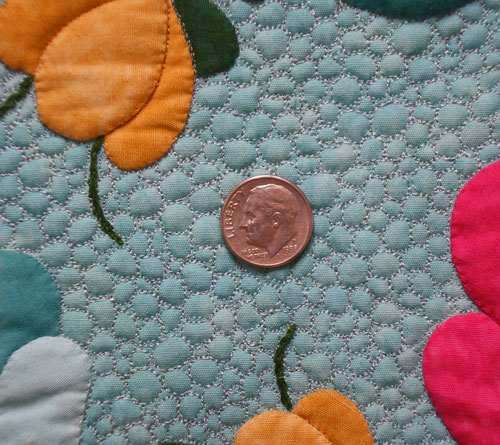 So for your quilt, decide on whether or not you'll use a free motion background fill stitch like stippling or pebbles or something else altogether.
Create a little practice quilt sandwich and practice your stitch pattern with the threads you've chosen.
Your stitches need to be short enough so that any curve in your stitch pattern looks smooth. If it looks 'pokey' or 'jagged' your stitches are too long. Keep in mind that the smaller or more intricate the background fill is the shorter your stitches need to be and the finer your thread needs to be.
The Most Important Factor......is your opinion.

Do you like how the stitching looks? If not, change it!

The information provided above is really a guideline to get you started.

In your head is a vision of how the quilt should look. Even without all sorts of formal 'art' training I know what I like when I see it.

I bet you do, too!

Don't discount how you want your quilt to look, even if it parts company with these guidelines. Your opinion is most important.

Joyce, I hope this has been of some help to you.

Readers...suggestions? Do use the 'comment' link below to add yours to this discussion.

Piecefully,

Julie

P.S. Don't forget to add your quilt's picture to our online Show and Tell when you're finished. We'd love to see it!