Ocean Paradise
by Betty Alofs
(CA)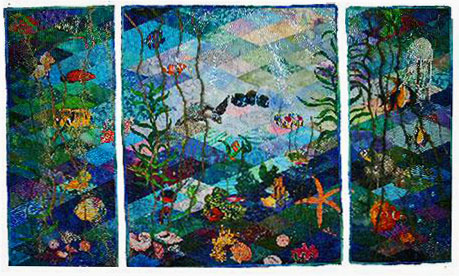 Ocean Paradise by Betty Alofs
This quilt was made with Jan Krentz's Fussy Cut Diamond ruler.
The background is all diamonds, and the fish and seaweed are cut from printed fabric. The Jellyfish was made with Angelina fibers and piping cord. Some of the seaweed is made by couching on various yarns and ribbons.
The Starfish is a sketched image I made. The quilt was made as a whole piece, and after quilting I cut it into 3 panels and bound each one.
Editor's Note:
The picture above is as large as I can make it. However, Betty was kind enough to email the original photo and we have several detail pictures...
To see more of Betty's beautiful work, be sure to visit her website at:
Betty A's Designs - Quilt Designs/Instruction
.
Betty, thank you so much for sharing your quilts with us!
Piecefully,
Julie Baird
Editor