Mixing different types of quilt fabric together in the same quilt

Can I use flannel and other cotton quilt fabrics together on a quilt top? Or should it be all flannel?

Thanks,

Teresa



Reply
Of course you can! But you'll want to take a couple of things into consideration as you work on your quilt.
Fabric shrinkage...
I find that the looser the weave of the fabric, the more it shrinks when you wash it. Conversely, the tighter the weave, the less shrinkage there is.
Because flannel makes such a cuddly quilt, I'm assuming that this is a quilt that you'll need to wash at some point. So my recommendation is to prewash all your fabrics for this quilt. That way you won't have some fabrics shrinking a little and the flannel shrinking a lot.
The pre-washing kind of evens out the playing field.
For a real life example, the quilt block below is from a quilt I'm currently working on.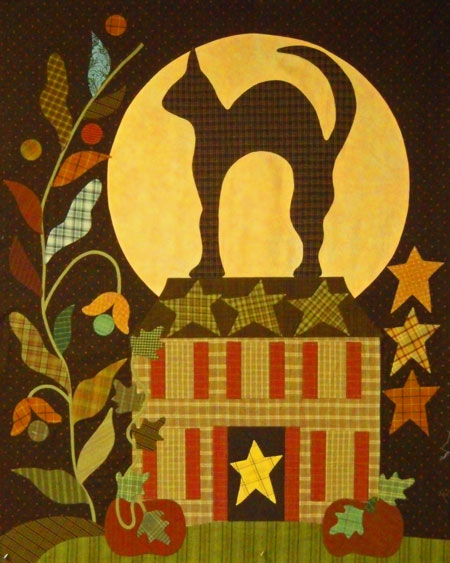 The quilt pattern is "Midnight Silhouette" by Blackbird Designs (if you purchase this pattern from somewhere, please let me know, there's an error in the instructions). In it I've used a combination of flannels, homespuns, quilting cottons and my own hand dyed cotton sateen to get the colors and textures I wanted.
All of the pieces in the house are flannels and homespuns. Even though they are
invisibly machine appliqued
to the top of the block, everything single piece was prewashed to even out the shrinkage. I must wash the quilt to remove the glue used in the applique process, so dealing with it (the shrinkage) is a must.
Do check for washing instructions on the bolts of fabric. I was really surprised when doing research for another page. There are a lot of quilt fabrics out there where the recommended washing temperature is 'cool'. Not what THIS quilter would expect?! Cool water...even for flannels???...I had ALWAYS washed them in hot to shrink them. I learn something new every day!
Thickness of the fabric and accurate seam allowances...
Your flannel fabric tends to be thicker than regular quilting cottons. I suggest you do a little 'seam allowance' testing before cutting out all the fabric strips and shapes.
If you're always sewing a flannel to a flannel or always a flannel to a quilting cotton...no problem, you just set the seam allowance, test, tweak and go.
But if you're switching back and forth, I'd take the time to do just a wee bit of extra testing, especially if there are a lot of seam allowances in the individual block. You needn't spend too much time on this testing. Flannel is a very forgiving fabric to work with and an extra pin here and there to hold things in place should take care of everything.
I hope this information is helpful to you!
Piecefully,
Julie Baird
Editor