Meander Quilting Problems
I'm ripping out meander stitching on my first quilt (twin size).

I started at the center top and stitched to the right towards the inner border (which I had already stitched in the ditch with a walking foot).

After meandering approximately one-fourth of the quilt, I saw that the top and polyester batting (higher loft) have shifted to the right and I now have an excess of approx. 3/4" up against the inner border.

Is this a basting problem? I pin basted it 4 times (checking front and back) to be sure it was smooth before I started quilting it.

Or, am I stretching the quilt sandwich too tight when I do the meander quilting?

I'm hoping after I remove most of the meander stitching that I will be able to ease the extra in. Please let me know your thoughts and suggestions.

Thanks!

LuLu


Reply
It's a total bummer to remove quilting...but every quilter I know has done it at one time or another. It seems almost like it's a rite of passage, though one we could all do without!
I think the bunching of the top and batting is coming from two things: 1) the polyester batting, itself, and 2) the amount of basting.
Polyester Quilt Batting
Polyester fibers are more 'slippery' than cotton fibers, so a polyester batting is going to take more safety pins to hold everything in place.
If you are using a high loft (thick) batting, you may need/want to raise the height of the presser foot, if your sewing machine will allow it. You'll need to check your sewing machine's manual to see if you can.
If the batting is so thick that the presser foot isn't clearing it as you move the quilt sandwich, it can't help but get pushed around by the presser foot during the stitching. I'm thinking particularly here of a polyester batting called 'Fatt Batt' manufactured by Mountain Mist. This type is meant to be tied
only
and not machine quilted. Double check the packaging your batting came in to be sure that it isn't another 'tie only' kind.
For future quilts, as you are getting comfortable with machine quilting, I suggest using a 100% cotton batting because of it's tendency to 'stick' to the cotton fabrics used in your quilt top and backing.
Pin Basting
Check out our page
Layering and Basting a Quilt
for a step by step discussion of the process.
After the quilt is pin basted, I place my palm down on the sandwich in several places. If I can regularly feel at least two pins under my hand, that's generally enough basting. But I always use either a cotton or a wool batting. For a poly batting you may want a few extra pins to accommodate the 'slipperiness'.
I'm not sure what the design of the quilt is, but I'm assuming that if this is your first quilt, that it is constructed of blocks set in rows, in either a straight or on-point layout.
If that is the case, I strongly urge you to consider ditch quilting between the blocks and then meander quilting each block individually.
The advantage to quilting it this way is that any excess quilt top or batting in an individual block will be contained in that block. You, in effect, get to start over in each block with a clean slate. It's very good practice, too, because you'll be starting and stopping for each block!
The quilt below is one of the first ones that I free motion quilted. I did ditch quilt between the blocks and...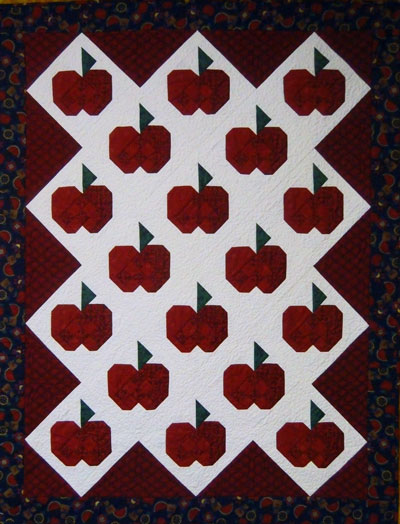 ...then stippled each one separately. You have to look very close to realize that that it how I did it.
In the close-up below, I think you can see the individual blocks. Those seam lines are ditch quilted. You've got to look really close to notice that the stippling stops at the edge of each block.
LuLu, I apologize for terribly long delay in my response. There was a glitch with my software program and over 150 questions 'magically' appeared out of the blue. Yours, unfortunately, was one of them. I hope that you were able to get your quilt finished!
Piecefully,
Julie Baird
Editor