Marking quilting lines with masking tape
by Noreen
(Thornhill, Ontario, Canada)
I am about to quilt a very pastel one (lots of white fabric) and don't want to use a powder marker.

Anyone had any experience with marking the lines with masking tape. My aim is to do a criss-cross pattern.


Reply
Hi Noreen!
I haven't used masking tape to mark my quilting lines. So I hoping that perhaps some of our readers will respond.
In the meantime, in place of the masking tape, I like to use my channel guide for my walking foot for parallel lines. This attachment also goes by the names: ditch quilting guide, adjustable quilting guide, Edge/Quilting guide.
The picture below shows the guide attached to the right side of my quilting foot.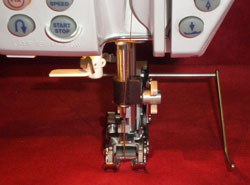 It is held is place with a screw. There is also a guide for the left side of the foot.
Check the packaging your walking foot came in. These came with my foot.
Then all you have to mark is one line in each direction.
Stitch on that line. Move the quilt sandwich over so that the guide rides along the top of the stitching. Repeat.
It's a nice little tool to use for parallel straight lines of quilting.
But again, to our very helpful readers, if you've got experience with using masking tape for marking your quilting lines, tips, tricks or things to watch out for, just use the 'comments' link below. We'd love to hear from you. Thank you!
Piecefully,
Julie Baird
Editor