This post contains affiliate links for which I receive compensation
Mariner's Compass Quilt
by Julie Baird
(IL)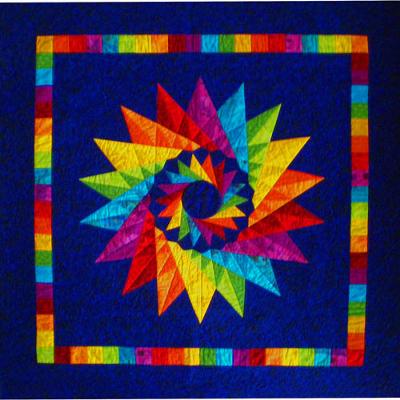 This Mariner's Compass Quilt is from a pattern by Judy Mathieson. The name of the pattern is Costa Rican Cartwheel. It's in both a book of Judy's and a CD (DVD? - can't keep them straight) she did later.

I learned a lot making this quilt. And color choices really make it a good looking piece.

The points of the compass are paper pieced, the center circle is machine appliqued. The compass itself is set into a background square. A lot to do, but if you take it step-by-step, a totally doable quilt.

In fact, I've taught this quilt pattern several times.

One of the things I was proud of, was that for the darker turquoise fabric, I actually cut and completely used up a piece of hand dyed, hand marbled fabric. That was a first! Very liberating!

This was also the first quilt that I heavily free motion machine quilted. It hung in our guild show. I was pretty cool, I overheard a gal telling her friend about how the quilter had used pre-quilted fabric. Not! But it was kind of neat that someone thought that.