Machine quilting with Viking Emerald 118
by Maybeth
(Stratford, CT)
Once the feed dogs are down, must you use a walking presser foot, or can you just use an all-purpose foot?

This beginning quilter wants to know!


Reply
Hi Maybeth!
When using a walking foot on your sewing machine, you'll want to have your feed dogs in the 'up' position. The feed dogs beneath the throat plate work in coordination with the feed dogs on the bottom of your walking or even feed foot to pull the quilt sandwich through your sewing machine. This coordination is what keeps your stitch length even...in fact this is what allows you to set the stitch length for your quilting stitches.
Now with the feed dogs down, you'll want to use a darning or hopping foot and not a regular, everyday presser foot.
With your FD down
AND
your presser foot in the down position, you need to be able to freely move your quilt sandwich around.
This is the opposite of when you sew.
It all comes down to the fact that with free motion quilting, you're creating the stitch length by how fast or slow you move your hands and how hard you press on the foot pedal.
The trade-off for learning to do this extra work is you can move the quilt in any direction at anytime. This reduces the numbers of starts and stops and the work of securing your stitches each time--either hand knotting and burying the thread tail or using micro stitches.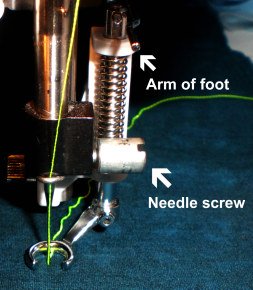 To the right is a picture of my favorite type of free motion quilting foot...with an open toe--so you can see where the needle is piercing the fabric...and an offset shank--so you can more easily see where you are going. Though these are simple modifications to my original quilting foot, they make the quilting so much more enjoyable! I strongly recommend that if you don't already have a quilting foot with these features that you purchase one if you like to free motion quilt.
Once you're comfortable with the technique, free motion quilting increases your productivity. I use free motion quilting for my ditch quilting now...it's simply faster and easier--and more relaxing--than using the walking foot.
I hope this has cleared things up for you, Maybeth. Thank you for your question.
Piecefully,
Julie Baird
Editor
PS I humbly apologize for the length of time it took to respond to your question. There was a problem with my host and I am trying desperately to get caught up now with a large backlog of questions that suddenly appeared.