Machine or Hand Quilt?
by Jan
(Australia)
I have made a quilt with a large panel in the middle which has a picture of running horses in a meadow.

Could I hand quilt around each horse and maybe where the sky meets the grass? I am going to machine quilt the blocks around the edge of the panel.

Or should I machine quilt the whole thing only I'm not that confident about machining the panel.



Reply
The first thing to remember is that this is YOUR quilt and YOU get to choose how you'll do it.
There are a lot of people out there that think they are the quilt police and will tell you there's a right and a wrong way to do everything in quilting.
Personally, I don't believe in the quilt police.
There are general
guidelines
for quilting. They are meant to help you get a quilt finished and then have that finished quilt hold together.
But many of those guidelines change over time as new products are introduced and as more quilters rally around a certain way of doing things.
In a word(s)...
I've got two answers with two sets of reasoning behind them.
Answer #1
Yes, do it exactly as you have stated. Machine quilt the blocks and hand quilt the center. If that's what it takes for you to complete the project, then it is absolutely, positively the right thing to do!
And I'm not the only one who endorses this!
Anita Shackleford, an award winning quilter, designer, and teacher...she does
HAND
stippling that just takes your breathe away...has written a book,
"A Modern Mix: Machine & Hand Quilting"
. You can read more at
Combining Hand and Machine Quilting
on our website.
As for the quilting you've proposed, check the recommended quilting distances for the batting you choose. You want to have enough quilting stitches to hold the layers together--so it hangs without sagging and comes through washing without the batting bunching up.
Answer #2IF
you are at the point in your quilting journey that you want to improve your machine quilting skills, this would be a good place to do it.
This is a REAL quilt, and not just a practice piece.
One of the things that I that happened when I was learning free motion quilting is that you (I) can't practice forever. I practiced and practiced and practiced on small, sample quilt sandwiches and definitely got comfortable with the skill. Things were looking pretty good!
However, when I went to free motion quilt my first 'real quilt', I was so nervous that I would 'wreck' it. It's pictured below.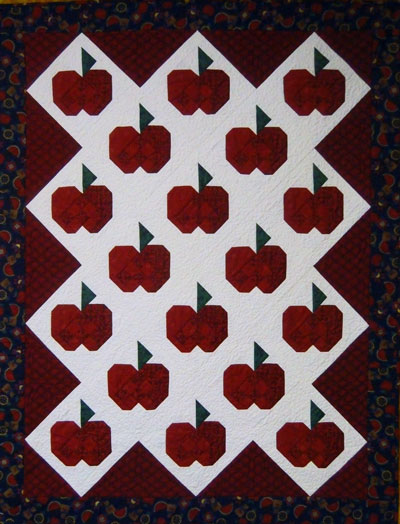 There are butterflies quilted in the red setting triangles. Now those stitches are justsoclosetogether!!! I was certain that the butterflies would just pop out of the borders because I'd perforated the fabric so much with the teeny stitches.
But they didn't pop out and I now look at that quilt fondly. Not too bad a job for a beginner!
Therefore, if you're ready for more, this would be a good place to 'practice for real'. The panel provides lines to follow along so there would be very little, if any marking, to do. You could concentrate on the quilting.
Jan, I apologize for this answer being so terribly late. Over 150 questions appeared this month in my dashboard. They've apparently been languishing is cyber purgatory for a very long time.
I hope your quilt turned out well!
Piecefully,
Julie Baird
Editor