Looking for a pattern for this 20 year old quilt
by Evelyn
(Hendersonville, NC USA)
Does anyone have the quilt pattern for this quilt. I made it 20 years ago but do not have the pattern.

Thanks.



Reply
This is a version of the Garden Maze quilt block.
I did not have a pattern so I drafted the original block into my EQ7 (the current version of Electric Quilt design software).
There are three components to the Garden Maze quilt pattern: an 'X' block, sashing and solid blocks. (This would be a nice way to showcase a large floral fabric if the solid blocks are large enough.)
The units look like this:




The 'X' block





The solid block**




The sashing***



NOTES:
**The solid block is 2x the length and 2x the width of the 'X' block
***The sashings are as wide as the 'X' block and 2x the length
After adding borders, this is what we get...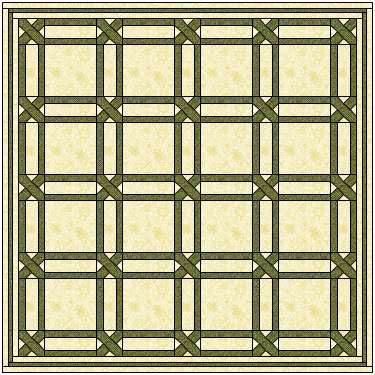 Close, but not quite!
After further inspection of the picture you supplied, it looks like there are two values, each, for the green and the gold fabrics. So I played with structure of the 'X' block and came up with this block. The quilt block structure is the same; the fabric placement is different. See how the center square is dark gold in one and dark green in the other.
The sashings are different, too. They are made from a strip of the lighter gold and the darker green, if I'm not mistaken. They are then flipped and rotated as needed and the result is a design that looks much more like the quilt you have on your wall.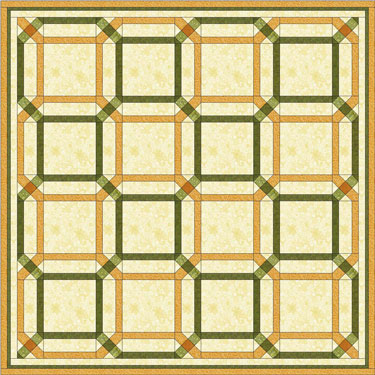 I'd be happy to finish up the design for you, but I would need to know the following to create the instructions:


How big are the finished solid blocks


Are there, indeed, two values of the gold and the green fabrics?


Do I have the values in the right place. If not could you supply a close up or a written description?


How many solid blocks do you want in each row and each column?
I'll be out over the weekend for a quilting day with friends, but will check my emails right away on Sunday. I hope this works for you. Just let me know!
UPDATE:
Evelyn, I've redrafted your quilt based on the additional information you provided. You can find it by clicking this link
Garden Maze Quilt Pattern Design
. There are rotary cutting directions and a coloring page to download and construction tips for making the blocks.
Let me know if you have any questions. Thanks for submitting your question. This was fun to work on!
Piecefully,
Julie Baird
Editor