This post contains affiliate links and ads for which I receive compensation.

Little Log Cabins
I came across this little marvel at the 2010 Autumn Gems Quilt Show put on by the Gems of the Prairie Quilt Guild of Peoria, IL.

This little log cabin quilt is amazing!

The logs can't be more than 1/8" wide. (To give you some sort of reference as to the size of the quilt, the distance from the safety pin in the sign above to the edge of the paper is about 4". Now that's tiny!)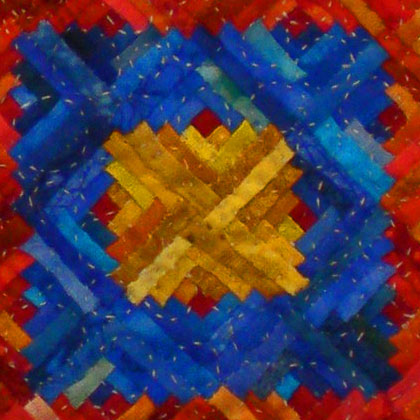 A close-up of the center:
And hand quilted, too! Amazing work!
The colors just sparkle!
And to top it off, it's hand quilted!
The quilt maker is Wendy S. Popp, who just happened to stop by my booth. I was lucky that I had already taken the picture as the quilt hung in the show so I could ask and receive her permission to display her quilt on the website.
I hope you enjoy it as much as I did!
Wendy, a beautiful job. A beautiful quilt!
Submitted by Julie Baird
Click here to return to Your Show and Tell.
If you enjoyed this article and found it helpful, I'd love you to let me know by clicking this button - thank you!