Lining up sashing strips in a window pane quilt design
by CJ
(Buffalo, Wyoming)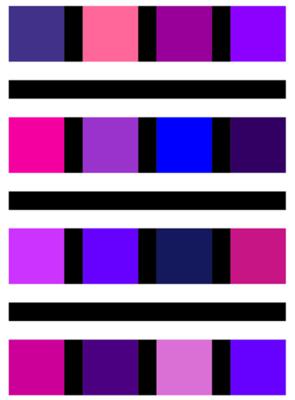 Pieced rows and sashing strips laid out ready for piecing
CJ asks...
I am working on my first ever 'window pane' quilt and I can't seem to get my frames to line up.
I have checked my spacing and it is okay so what is the secret?
I have used a ruler.
I have used my eyesight.
I have used my trust - nothing has worked.
Any solutions?
Julie replies...
As they say...been there, done that, bought the t-shirt.
You're not alone!
It all comes down to marking and pinning.
What I suggest is using your ruler and either chalk or pins to mark where the seam lines should fall on the solid sashing strip.
If you use chalk, try to keep it within the seam allowance (SA) so that you don't have to worry about removing it later.
Personally, I use pins because I'll need them anyway.
Mark using the the mathematically correct spacing in accordance with the pattern.
Assume that the blocks in the diagram below are 3" finished with the sashing finishing at 1".
Mark the seam line placement on the sashing strip with pins or chalk
You would need to put marks at 3-1/4" (remember on the first mark you've got to include a SA), 4-1/4", 7-1/4", 8-1/4", 11-1/4" and 12-1/4". Repeat for all the sashing strips and I recommend doing them all at the same time...it's harder to make a mistake that way.
Then pin a pieced row to one side of a sashing strip, sew and press. Repeat for the remaining strips. Then join pairs together and repeat until the center field of quilt blocks is complete.
If your SAs were off a smidge, you might be easing a bit between the pins to make everything fit together nicely. The important thing, design-wise, is that those vertical sashing strips line up...it's what your eye sees first because it's such a strong visual element. I much prefer a quilt design that includes cornerstones in the sashing. The extra piecing creates seams that nest to make matching up the vertical sashing a breeze.
CJ, I hope this has helped. While the single strip would seem to be the easiest to piece—just cut one and sew—it does take a couple extra steps to make it look just right. But in the end, I believe the extra time is worth the result!
Readers, as always your opinions and experiences are most welcome. Just use the 'comments' link below to share them. Thank you!
Piecefully,
Julie Baird
Editor