Lighting for quilting
by Karen U
(Santa Rosa, CA)
I am having trouble with shadows on my fabric when I am rotary cutting and sewing. Unless I'm cutting in full daylight, no matter where I position my light, I have shadows that are affecting my cutting/sewing accuracy. I don't have overhead lights so I rely on an Ott light on my cutting table (pretty much ineffective), a goose-neck standing lamp that kind of works and a table lamp that just brightens the room.

Ditto all of the above with my sewing machine.

HELP!


Reply
I totally understand. My eyes are the weakest part of my quilting. I've made a couple of adjustments to my work area to compensate for them.
Lighting my cutting table
For cutting I have a cutting table in a fixed position that my father built for me. I just moved it last week to underneath the light fixture. Since it's in my basement, I was able to use a screw in adapter so that I could put two bulbs in one fixture. You'll notice from the image below that they are the new CFC lights.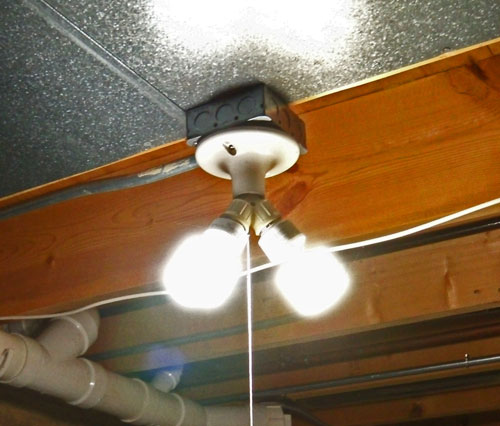 These bulbs put out the same light as two 100 watt bulbs while only using something like 23 watts each. The light is situated on the opposite side from where I cut so that it doesn't cast many shadows.
If you can do something like this in your sewing room, do check the fixture so that you don't overload it with too many watts.
Lighting my sewing machine
My sewing machine is a different matter. I use a magnifying glass to piece, machine applique and quilt with. I purchased it at one of the Office supply stores, Office Depot, I think.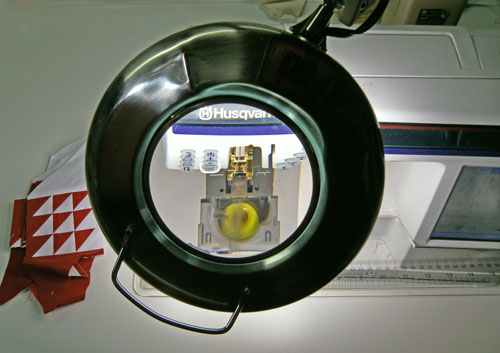 It's got a 5 inch magnifying lens with a 8" circular fluorescent light bulb underneath. A 'C' clamp holds it in place with a screw. The arm has a bit of bounce if you bump it...but I got used to it because I liked seeing everything bigger...so much easier on my eyes. I can sew for so much longer without my eyes getting tired.
The way the light fits in the fixture, there's no glare to deal with. This particular fixture eliminated my need for extra lights (other than the general overhead ceiling light.)
Before the magnifier, I would sew with the ceiling light on, my machine light on, my small table top Ott light to the right, in front of my machine, and my gooseneck, floor Ott light to the rear of the machine. The trick was to angle the two free standing lights so there wasn't any glare and or any shadows. But it definitely took two lights to get rid of the shadow.
When I'm machine quilting, specifically with a matching thread on a dark background, I'll play with the angle of the lights so that they highlight the texture of the stitching I've done. That makes it so much easier for me.
I've tried the Bendable Bright Light. (When I bought it, it was $49...awfully pricey.) Though my friends rave about it, it created too much glare off the foot for my taste. I don't use it today.
You have indicated that you've got three task lighting fixtures. I would move all three to wherever you are working so that you've got light coming at you from three sides. I do believe that would significantly reduce those annoying shadows.
I apologize for the huge delay in responding. I've had over 150 unanswered questions appear on my dashboard as a result of a software glitch. I'm working my way through them a couple a day, but it's going to take some time. Again, Karen, I apologize.
Readers, how do you light your work area? Does it eliminate shadows? Please share how you do it using the 'Comments' link found below. Thank you!
Piecefully,
Julie Baird
Editor