Kitty Baby Quilt with Machine Embroidery
by Julie
(IL)
The embroidery designs are from Cactus Punch
This little log cabin flannel quilt was a fun one to make for my daughter.

It's made from a collection of 1930's reproduction flannels and a couple of extra miscellaneous flannels.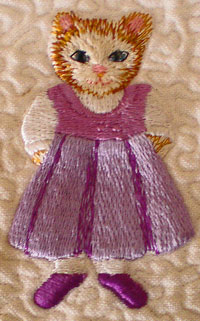 A Cactus Punch machine embroidery collection called, Cactus Punch CAT02 Fancy Cats Embroidery CD, started it all. It is full of all sorts of kitties being all sorts of people.
Just too cute to pass up!
The embroidered blocks were squared up to 4-1/4" unfinished. I cut 1-1/2" strips from every flannel I'd collected, saving a full strip of 16 different pieces for the outside log of each block. That way I wouldn't have to worry about two of the same fabric being on the outside edge. It's so nice when I actually think ahead.
Then I cut one 1" wide strip from several fabrics, and 1" wide strips of a pink flannel to frame each block.
The outer squares are made from miscellaneous flannel squares cut 3" square. The one round of logs that goes around each one was cut 1-1/4" wide.
| Round | Strip Cut Size |
| --- | --- |
| 1st | 1" wide pink flannel |
| 2nd | 1-1/2" wide strip |
| 3rd | 1" wide strip |
| 4th | 1-1/2" wide strip |
| 5th | 1-1/2" wide strip |
The blocks were pieced "court house steps" style...add a log to the top and bottom at the same sitting, then press and then add a log to the left and right side, again, in the same sitting. The piecing went so much faster that way.
This was the 1st quilt made with my Designer I. I really fell in love with the pivot function it has.
If you don't have the "pivot" function, what happens is when you stop stitching, the foot raises up about halfway. Especially nice in combination with the needle stop down feature. It's so easy to chain piece this way and saved a ton of time. The whole top was pieced in a day.
I liked making this one so much, I've made it two more times for baby quilts for friends. The only change was to use my embroidery
machine to stitch a block with the baby's name, birth date and weight just to personalize it a bit.
A fun project to make! A cuddly quilt to snuggle in!