Interpreting recommended quilting distances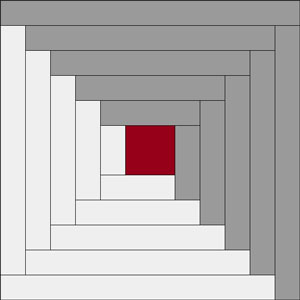 For a jaunty way to quilt this block, scroll to the bottom of this page!
A reader asks...
Hi.
I have just finished ditch stitching a Log Cabin Quilt, using Hobbs Heirloom 80/20% (cotton/poly) for the batting.
Hobbs lists the quilting dimensions of this batting as "up to 4 inches apart." My Log Cabin quilt consists of 1.5-inch wide "logs" with 2-inch wide sashing strips between each 12-inch block. None of these log/sashing strips is longer than 12 inches, but almost all strips in these blocks are longer than the 4 inches recommended by Hobbs.
Here's my question.
I have read that as long as you adhere to the recommended quilting dimensions in one direction, you needn't adhere to them in the other direction. I have also read that the recommended quilting dimension means that as long as there are quilting stitches within 4 inches (in this case of Hobbs Heirloom cotton/poly) of any point in the quilt, you will be fine.
Do you agree?
MY SID stitching meets both of those standards, but I am concerned about the longer channels in my quilt. The last round of "logs" in my blocks contains 10-1/2 inch long channels. Is that really OK or should I break up those lengths with additional quilting?
I don't mind the extra work, but I like the minimalist SID channel look, breaking up the channels in a pleasing design would be a challenge, and I don't free motion quilt well enough to consider an overall quilting pattern on top of the SIDing.
The quilt is intended as an 83rd birthday present for a friend who just moved to assisted living. Incontinence necessitating regular washing is a consideration.
Many thanks.
Julie replies...
I have quilted several log cabin quilts in just such a way (Quilter's Dream, 100% cotton, Select or Request weight—the lightest two weights—are my go-to battings).
These were my kids' flannel quilts that went from the bed to the couch and back again, continually. Frequent washings. (I would dry part of the way and then let the quilt air dry the rest of the way.) I did not have any problems with the batting migrating or shifting. My logs finished at 1" wide and up to 11" long.
So my experience says you'll be just fine. If it was my quilt, I would not add extra quilting.
I agree with your understanding of recommended quilting distance—that it must be at least in one direction for Hobbs 80/20.
There's always an exception to the rule...
Now if I was using a hand quilting batting like Mountain Mist 100% Cotton or Blue Ribbon (recommended quilting distance is 1/4"-1/2" and 2" apart, respectively) I would want the quilting to be that close in
BOTH
directions.
For one very particular reason...
Those battings are actually a scrim with cotton fiber loosely attached/bonded to it. If those fibers broke loose, they'd travel anywhere there was an opening. To prevent that, I'd want to make sure it was hand-quilted in both directions.
But you're machine quilting, so that's not even an issue here.
I think you're doing great. Your reasoning is well thought out.
Your friend is lucky to have you in his/her life!
Quilt on!
Piecefully,
Julie Baird
Editor
PS I thought you might get a kick out of another way to quilt a Log Cabin quilt block.
Continuous straight lines, quilted diagonally through the logs, ending with a star in the center.