I need a thinner, lighter quilt batting
by Gloria
(MA)
I love Warm and Natural batting; however, I have bi-lateral torn rotator cuffs and sometimes the Warm and Natural is too heavy for me to handle once the quilt is quilted.

I don't care for big "puffy" quilts, so what do you suggest I can use that will give close to the same look and effect as W & N?


Reply
I'm not a big fan of the big puffy quilts, either...you can't see my quilting then!
Warm and Natural batting is a needlepunched batting with a scrim. It has a 3/32" loft.
I would suggest Quilter's Dream Cotton in a 'Request' loft, its lowest loft. It is also needlepunched, but with no scrim or resins, making it a truly 100% cotton batt. It will feel and behave just like your W&N except that your finished quilts will be thinner using 'Request'. Its loft is 1/16" thick...or rather I should say thin...making it about 30% thinner than the W&N.
I especially like to use this batting/loft when I'm quilting with Civil War reproduction fabrics. It was the one I chose for 'The Birthday Quilt' (shown below) because the quilt top itself was so heavy. (Each 1-1/2" nine patch block contains 9 square inches of fabric, so it's deceptively heavy.)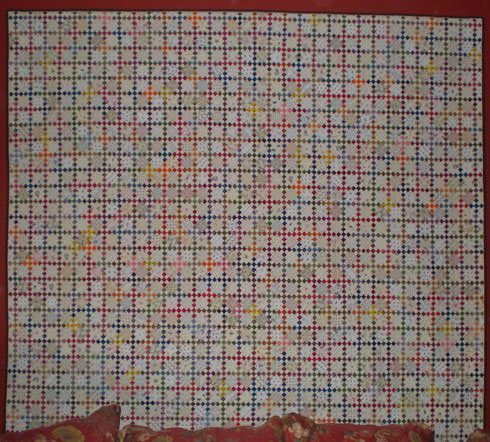 The Birthday Quilt
Machine pieced/machine quilted by Julie Baird
Pattern by JJ Stitches
The manufacturer states that there is minimal shrinkage (1%) when washed in cold water and air dried. That has been my experience. It comes in both a natural and a white color.
Prepackaged cuts are available in the following sizes:
| | |
| --- | --- |
| Craft | 46"x36" |
| Crib | 46"x60" |
| Throw | 60"x60" |
| Twin | 93"x72" |
| Double | 96"x93" |
| Queen | 108"x93" |
| Super Queen | 93"x121" |
| King | 122"x122" |
| Runner roll | 18"x30 yards |
It is available by the roll, too. There's a good chance that your local quilt store already carries this batting, if not by the yard, then as a packaged cut.
Readers, what do you think? Please share your thoughts and experiences with us using the link just below. Thank you!
Piecefully
Julie Baird
Editor