How much thread to purchase for quilting?
Is there any way to determine approximately how much thread will be needed for quilting?

I know that design and obviously size of project are variables but is there some common denominator that can be used for this?

Thanks for any help.


Reply
First, I must apologize for the terribly long delay in responding to your question. There was a snafu with my hosting company, and a huge backlog of older questions suddenly appeared in my dashboard. I'm doing my best to get caught up. Again, I'm sorry.
As to your question, I am unaware of any 'formula' for computing how much thread you'll need to purchase to quilt a quilt.
The closest I've seen is a chart from the good folks at Superior Threads (I love their threads!!!) This is what they suggest...
Size
Quilting Density
Light
Medium
Heavy
Lap
200 yds
400 yds
600 yds
Twin
400 yds
800 yds
1,200 yds
Queen
600 yds
1,000 yds
1,600 yds
King
700 yds
1,500 yds
2,000 yds
This is a good place to start, but knowing your own quilting preference will help a lot.
In the quilt below, Rogaland Rosemaling, there are over 800 yards of silk thread in the top...due to the super dense pebble background fill.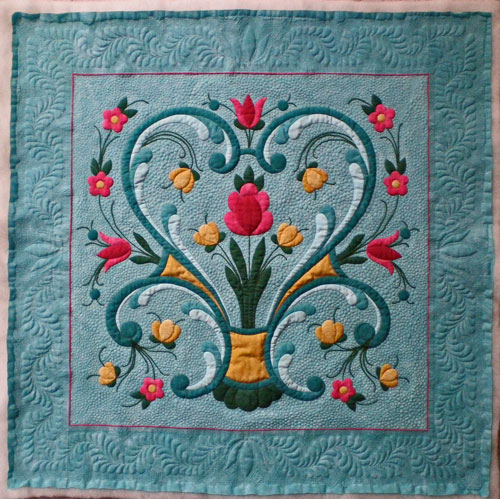 Add to that the monofilament used to ditch quilt all the elements and the bobbin thread, there are over 1,600 yards in this quilt that barely measures 27 inches square. I had to go twice to purchase extra silk thread.
And that's really what it comes down to...you don't want to have to go get more.
There's a couple of things you can do to prevent making that extra trip.
Keep track of your own quilting projects. Rate the density of your own quilting designs, the size of the project and how much thread you used. This will go a long way to making good estimates.
Buy cones or mini cones of your quilting thread to ensure you'll have enough. Many quilters (myself included) tend to work a lot in the same color families, so a thread you use for one quilt will, in all likelihood work on another project. The extra thread won't go to waste.
Match the value of the quilting thread to your fabric, don't go for the exact match.

I hand dye the cotton sateen that most of our feathered quilting designs are stitched on. Sometimes it's just not possible to find an exact color match to the fabric with the YLI silk thread. You can use a thread that does match the value of the fabric.

It can be close in color or simply a non-objectionable value match. Having a nice selection of taupe, beige and gray thread will provide quite a few satisfactory options for quilting threads. It's a great technique to use when there isn't a lot of color selection in the 'perfect thread' for your quilt.
I hope this has given you some ideas for making your own estimations.
Readers, how do you calculate how much thread you'll need for a quilt? Do share your formulas and ideas below. Thank you!
Piecefully,
Julie Baird
Editor