How do I quilt a Maltese Cross quilt?
by Wynne
(The Royal city of Guelph, ON, Canada)
I made a Maltese Cross design with blank squares between.

Any suggestions as to the machine quilting?

I have made many hand quilted items but new, as age advances, to machine quilting.

Any suggestions?


Reply
There are a couple of quilt blocks that go by the name 'Maltese Cross'. Recently I did a page about
Pineapple quilt pattern designs
and found out that that block is also called a 'Maltese Cross'. If that is the version of the block that you created, you might find some inspiration on this page about
"Quilting a Pineapple Quilt"
.
Now if the block is more like the one shown below, I would first ditch quilt between all the rows and columns. Those stitching lines are shown in red.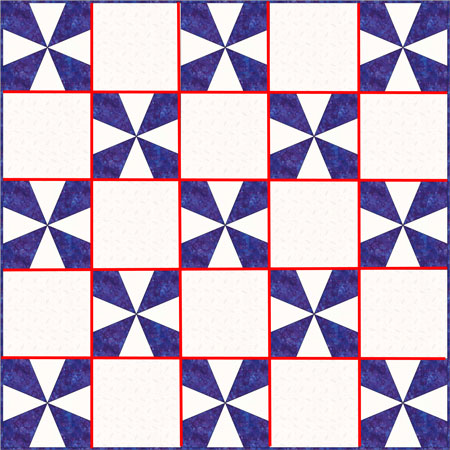 Next, ditch quilt diagonally through the blocks. Normally, I don't like to recommend turning the quilt when you're ditch quilting because it puts so much stress on the needle. Just take it slow, take the time to rearrange the quilt sandwich as you make the turns so you don't accidentally sew tucks into the back or catch a part of the quilt in your quilting stitches.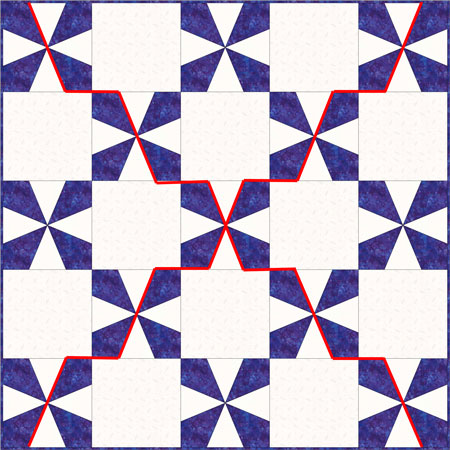 Complete all the diagonal quilting until all the seams are quilted. You will be stitching twice over some lines of quilting. As long as your stitches are in the well of the seam, no one will see that you did this. (I use this technique all the time when I travel from one spot of quilting to another...that way I don't have to stop frequently to tie off my stitches.)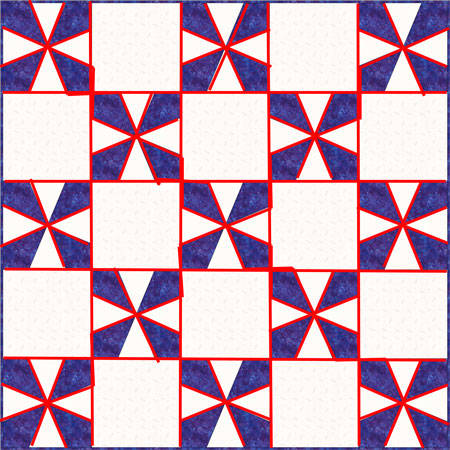 For more information on the order of quilting, see this page
"How to Machine Quilt Your First Quilt
At this point, your quilt is completely stabilized. You can quilt anywhere that you want. And what I would suggest is that you hand quilt the open spaces.
Those big open blocks beg for a quilted design and not just fill stitching like stippling or meandering. If you are brand new to machine quilting, there's nothing wrong with combining hand and machine work on the same quilt.
Now if you're sure you want to do the whole thing by machine, I suggest that you mimic the shapes in the pieced blocks in the alternate squares. I used red so that you could see the pattern.
You'd go about this stitching in the same manner as the diagonal quilting above. All of it is straight line quilting with your walking foot with some slight turns.
If you want a stitching line to follow, you could draw it in easily from point to point with a chalk pencil. Again, you'd be going over the same ditch a couple of times...as long as your stitches are in the seam, that's not a problem.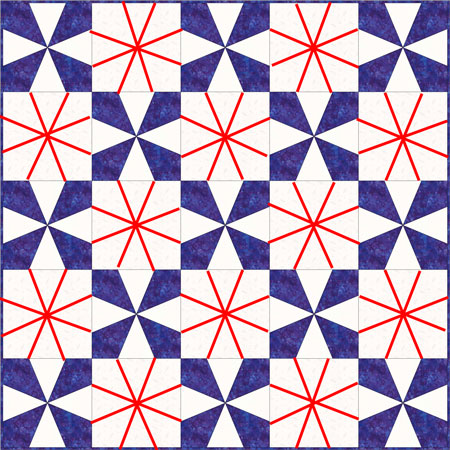 I'd love to see how you choose to finish your quilt!
Readers, do you have suggestions for Wynne, a brand new machine quilter? Please share your suggestions via the 'comments' link below.
Piecefully,
Julie Baird
Editor